*全套原版录音和教材完全同步,助您成为英语大明星。
新目标初中英语八年级上下册
by zuni cai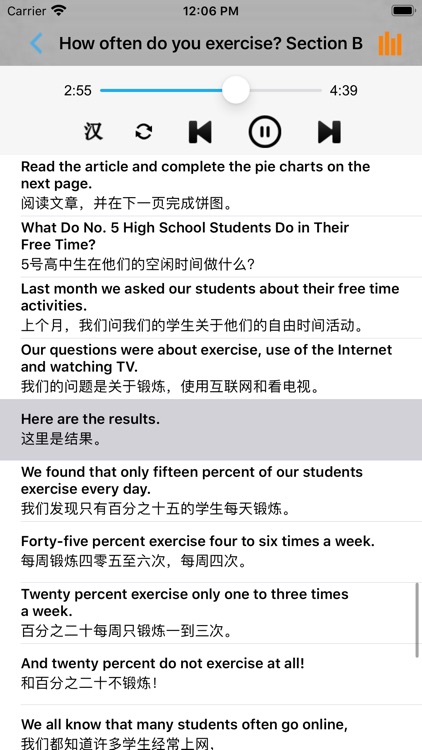 What is it about?
*全套原版录音和教材完全同步,助您成为英语大明星。
App Store Description
*全套原版录音和教材完全同步,助您成为英语大明星。
*根据课本配套,此应用为人教版新目标初中英语八年级上册、下册完全最新版。
*涵盖全部内容,包括全部课程对话和常用句子、单词列表、复习章节等。
*操作简便、携带方便,永远告别磁带和光盘。

【新梦想】教育应用系列完全同步教材制作,内容完全一致,您可以使用它来进行课文学习,播放教材配套音频,发音纯正地道,寓教于乐,让学习更高效和有趣。
该应用界面简洁操作简单,让孩子在舒适的环境下学习,能点,能读,更能说,是小朋友的好老师、好家长。

功能特色
■中英文双语对照,同步语音,准确清晰。
■内容与录音质量放心,地道纯正、原汁源味。
■语音播放灵活,即点即学,跟读模仿随时随地。
■完全同步教材制作,内容完全一致。
■后台播放人性化,锁屏状态可随身听读。
■界面简单大方,意图明了,功能实用,操作方便。


用我们的责任心、爱心、细心地去点燃学生们的梦想,让有梦想的孩子们慢慢的变化!学习成绩逐步提高,慢慢的,他们又有了新梦想,如此反复......
让中学生中英文双语对照,发音准确清晰,是小朋友自学的好老师,把家长从繁琐的辅导解答中解放出来!
【新梦想】教育应用系列,快乐中学习,轻松点一点,英语真容易!

—【新梦想】教育应用系列—
适用于多种教学场景,您可以更加便捷地进行碎片化学习,期待您的使用!
致力于为中国K12教育提供最优秀的互联网教育软件!
新梦想乐园,伴随青少年健康快乐的成长!


*****软件功能*****
1.通用应用,同时支持iPhone,iPod touch,iPad设备
2.可以自动顺序播放功能
3.可以自动记录播放位置,不用担心下次找不到听到哪
4.支持离线播放,即使不联网也一样听,到哪都不怕
5.支持手动拖拽前进、后退播放
6.在兼顾软件容量以及更多课程的情况下,我们最大限度保证音频的高质量,每个有声读物片段都是经过我们精选和亲测
7.最最重要的功能,可以拖动字幕定位,音频随之定位


本应用与《义务教育教科书人教版新目标初中英语八年级上册、下册》课本同步
新版目录(八年级上册):
Unit 1 Where didi you go on vacation?
Unit 2 How often do you exercise?
Unit 3 I'm more outgoing than my sister.
Unit 4 What's the best movie theater?
Unit 5 Do you want to watch a game show?
Unit 6 I'm going to study computer science.
Unit 7 Will people have robots?
Unit 8 How do you make a banana milk shake?
Unit 9 Can you come to my party?
Unit 10 If you go to the party,you'll have a great time!
Additional Material
Notes on the Text
Tapescripts
Pronunciation
Grammar
Words and Expressions in Each Unit
Vocabulary Index
Name List

新版目录(八年级下册):
Unit 1 What's the matter?
Unit 2 I'll help to clean up the city parks.
Unit 3 Could you please clean your room?
Unit 4 Why don't you talk to your parents?
Unit 5 What were you doing when the rainstorm came?
Unit 6 An old man tried to move the mountains.
Unit 7 What's the highest mountain in the world?
Unit 8 Have you read Treasure Island yet?
Unit 9 Have you ever been to a museum?
Unit 10 I've had this bike for three years.
Notes on the Text
Tapescripts
Grammar
Words and Expressions in Each Unit
Vocabulary Index
Irregular Verbs
Disclaimer:
AppAdvice does not own this application and only provides images and links contained in the iTunes Search API, to help our users find the best apps to download. If you are the developer of this app and would like your information removed, please send a request to
[email protected]
and your information will be removed.