Discover The Easiest & Quickest Way To Set, Track & Reach Your Personal Sales Goals
"Easy Sales Goal Tracker"
by Calls On Fire LLC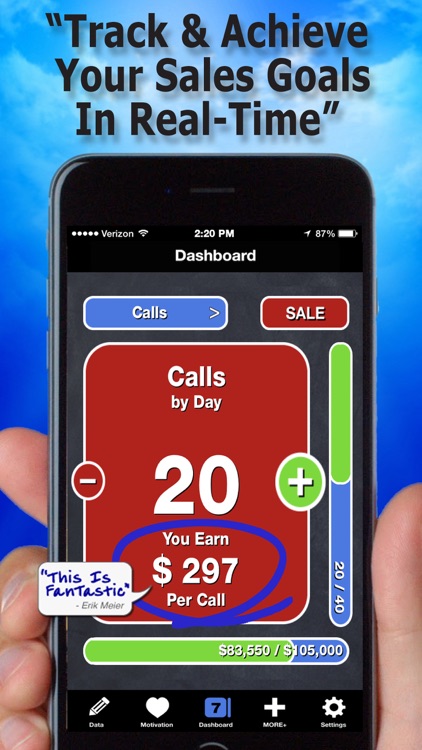 What is it about?
Discover The Easiest & Quickest Way To Set, Track & Reach Your Personal Sales Goals.
For those who...
This app is ideal for anyone who needs to meet a sales goal.
Not for those who...
The app is loaded with customizable features, but one it lacks is passcode protection. If you're worried about coworkers or competitors stealing your information, you'll have to find another sales goal app.
Why we love it
If you're looking for an edge over the competition, you've found it in Sales Goal Tracker. There's no better way to kick start your sales career.
"Easy Sales Goal Tracker" is $4.99 but there are more add-ons
$2.99

Sales Goal Tracker Data Backup - Monthly Subscription

$19.99

Sales Goal Tracker Data Backup - Yearly Subscription
App Store Description
Discover The Easiest & Quickest Way To Set, Track & Reach Your Personal Sales Goals.

I'll admit — I know about the pain of using CRM systems firsthand, up close and personal. One of the reasons I created this app was to solve a few big problems I'd been having with CRM.

Anyway, I found almost all CRM to be very very very time consuming and way too complicated and confusing for my brain.

That's why I created this Easy Sales Goal Tracker.

I assure you, as a fellow sales pro, this app is different from any sales goal tracker or system you've ever seen. It's quicker and it's easier because it does only one thing and one thing very well.

Install it, try it, put it to the test and prove it works on a fully guaranteed basis.

Because if you aren't amazed and helped by this app – so much so that you'll want to tell other sales pros about it – I'll personally give you a full refund, no questions asked, no hassle whatsoever.

This one app is kind of like having X-ray vision. It shows you which of your sales activities/behaviors are most profitable much quicker and easier than you ever dreamed possible.

IF you are sincere about your ambitions and IF you take your sales career seriously, download my app now if you haven't already done so.

You know, before long, I may become the most hated app creator by the CRM big boys, but I don't care. You HAVE TO TRY Easy Sale Goal Tracker. Even if you are being forced by your sales manager to use a CRM system. I promise you'll save time, money and a lot of frustration.

But know THIS: my revolutionary sales app has sold for as high as $19.99. You can install it right now for a lot less… by the way, the price IS scheduled to go very soon so download and install it now.

In the words of one jubilant app user "This is not just an app – it's a mobile sales motivator."

Anyway, I'm supercharged SERIOUS about helping YOU be the top dog sales pro in your office and a huge success story.

Simply install this app and use it for 5-minutes a day. Easy.

I can't wait to hear about your success.

Enjoy and Prosper,
Sandy Barris, CEO

P.S. Over 42,951 people from all over the world have installed Easy Sales Goal Tracker already including some of the brightest minds in sales today. Isn't time you put this app on your iPhone or iPad?

P.P. S. Please do NOT hesitate: The price IS scheduled to go up any day now.

————————————————

I'd love to hear from you!

PLEASE CONTACT ME PERSONALLY if you have any questions or run into any problems using the app, have feedback, update or feature ideas: [email protected]

And, please consider posting a friendly review and rating in the App Store.