Push a cube through geometry
EDGE Extended
by Mobigame
watch trailer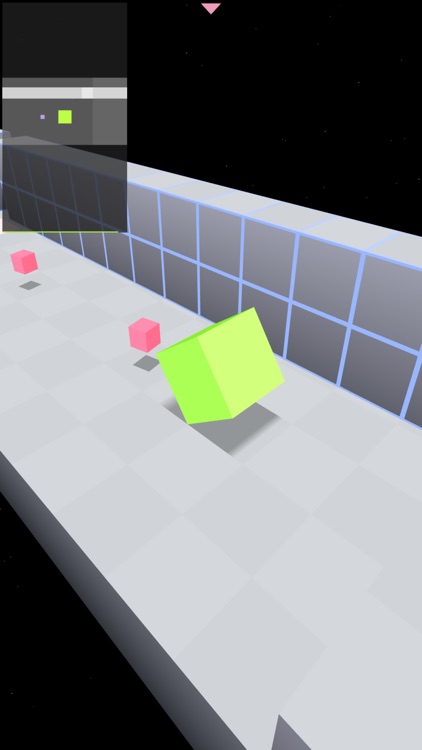 $2.99

in the App Store
The original game perfectly suited for mobile devices has come to the Apple TV. Develop your telekinetic strength by pushing a cube within a geometric universe. Platforms, enigmas and reflexes combine to make Edge Extended a rich and comprehensive game. Rotate and push the cube around the puzzle to complete each level.
Flip Switches For New Apps. The puzzle platformer elements of Edge Extended revolve around flipping switches to open up all new pathways.
All Kinds Of Dangers. There are tons of dangers in the world of Edge Extended. That includes tiles that fall away, and enemy cubes that try to trip you up.
Cube Climbing Action. Swipe and hold on the touch panel of the Apple TV remote to move the cube. The cube flips on its sides, and you can climb up the cube environment with this set-up.
What is it about?
Edge Extended is all about maneuvering a cube around a geometric universe. Each level contains various platforms, obstacles, and enigmas that challenge you to hone your reflexes and strategy to complete the puzzle. If you get your cube to the end of the puzzle, you can claim your fame. If you fail, though, you have to watch your cube shattered into thousands of pieces.
For those who...
Love a good puzzle
Enjoy geometry-based games
Are looking for a casual game with plenty of challenge
Not for those who...
Don't like 3-D geometric puzzles
Want a rich, compelling storyline
Why we love it
Edge Extended is a challenging game, but it has simple to learn controls. You will develop better reflexes and strategy skills as you progress through the levels. The game includes 48 levels, plus 15 bonus puzzles to keep you coming back for more.
App Store Description
Mobigame's multi-awarded and critically loved game is back! EDGE Extended introduces a brand new 3D graphics engine, 48 original levels, 23 unique tunes and new gameplay mechanics.

See the gameplay video at :
www.mobigame.net

Develop your telekinetic strength by pushing a Cube within a geometric universe.

Platforms, enigmas and reflexes combine to make EDGE Extended a rich and very comprehensive game.

- An original game ideally suited for mobile devices
- 48 levels to challenge + 15 bonus levels
- 23 unique tunes!
- New 3D graphic engine optimized for Retina display
- Multi Sampling Anti Aliasing (4xMSAA)
- A simple, addictive game for every type of player

Try our other games: Zombie Tsunami, Perfect Cell, Cross Fingers, Truckers Delight.
Follow us on twitter.com/Mobigame
Visit us on http://www.mobigame.net