Carved hieroglyphs come to live
Escape from the Pyramid
by Tama Games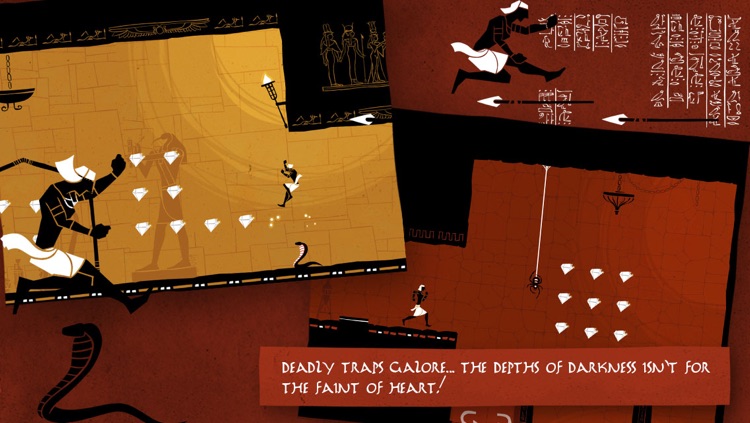 What is it about?
Carved hieroglyphs come to live! Escape from the Pyramid is a unique platformer developed with stunning visuals set in ancient Egypt.
Avoid dangerous obstacles! Your character will run on his own, but you're able to sprint, jump, and change directions.
Grab all of the gems and golden beetles! As he goes speeding along, try to grab all of the gems, golden beetles, and the hidden Canopic jars in each level while avoiding dangerous obstacles.
App Store Description
Carved hieroglyphs come to live! Escape from the Pyramid is a unique platformer developed with stunning visuals set in ancient Egypt.

Mixing elements from free running, puzzle and platforms games, Escape is a challenging experience that will test your reflexes (and your patience!) as your try to find your way through labyrinthine and deadly maps. Simple mechanics but cleverly designed levels will make sure you stand on your toes whilst you navigate through 45 astonishing levels.

Avoid deadly spikes, poisonous snakes, spiders and scorpions! Collect gems and golden beetles! Find hidden Canopic jars to summon the help of the gods! And above all… try reaching the exit alive!

And remember.. you will die. Plenty!

Features:
- Unique design, modeled after ancient Egyptian hieroglyphs
- Challenging gameplay, with cleverly designed puzzles and labyrinths
- 3 distinct pyramids, each with a unique final boss
- A total of 45 levels, each more challenging than the last
- A plethora of enemies and traps: snakes, scorpions, spikes, saws, spiders, hidden
spears, lava, and many more
- Golden beetles for special achievements on every level: find hidden treasures, find
all gems, complete a speed run.
- Game Center Achievements