"extremely manic and electrifying, a unique combination of hyper-fast dodging and thoughtful pathfinding" -Gamezebo
Ever Knight
by Kyle Barrett
watch trailer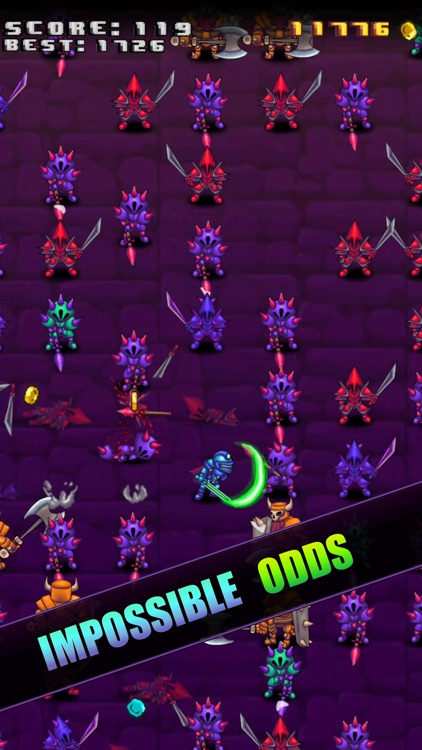 What is it about?
"extremely manic and electrifying, a unique combination of hyper-fast dodging and thoughtful pathfinding" -Gamezebo
Use powerful attacks. Collect the shiny power-up items on the arena field and then do a long press on the screen to activate the attack. These special attacks can be devastating for your opponents, so make sure to take advantage of them to clear the field!
How far can you get? The main objective in Ever Knight is to not kill as many enemies as you can, but instead how far you can get. However, getting far means killing foes who stand in your way, and there's a lot of that going on in this game, especially the further along you get. Use your special attacks, power-ups, and upgrade your gear to make sure you can survive!
Upgrade your knight. Enemies drop coins when they fall, and it's important to pick up as much coin as you can. The coins can be spent on powerful upgrades for your knight to make the journey easier as you watch your enemies quake in fear as you wield your awesome weaponry.
App Store Description
"extremely manic and electrifying, a unique combination of hyper-fast dodging and thoughtful pathfinding" -Gamezebo

"ridiculously brutal, but it won't be brutal on your wallet: it's only $0.99 without any sight of in-app purchases. Wow." -TouchArcade

Ever Knight is an endless, arcade-style hack and slash with simple controls and fast-paced action. Swipe up, down, left, or right to move and attack. Every battle fills the screen with enemies that can kill in a single blow, and only swift reflexes and precise timing will save you.

The farther you get, the more loot you can unlock to customize your knight's appearance and abilities. Suit up with samurai armor and a shield-cutting chainsaw, or maybe try on an astronaut helmet that randomly causes enemies to explode.

It's fun and fast, perfect for taking your mind off of just about anything.

Features Include:
-An endless onslaught of evil with 17 levels of difficulty to unlock
-37 unique pieces of gear to unlock and customize your Knight with
-Colorful, arcade-style graphics and animations
-Diverse and challenging baddies
-4 directional swipe controls specifically designed for mobile
-Blood-pumping soundtrack