با استفاده از یک موتور پیش‌بینی قوی کلمات اشتباه خود را اصلاح و حتی کلمه‌ی بعد را پیش‌بینی کنید
FarsTap - فارس تپ
by Saeed Taheri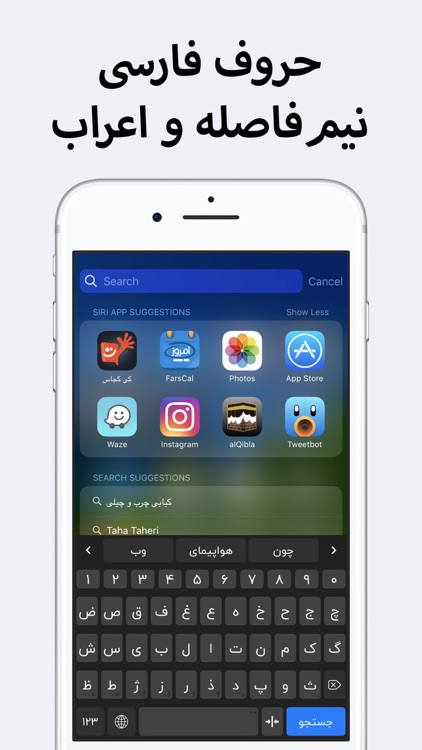 What is it about?
با استفاده از یک موتور پیش‌بینی قوی کلمات اشتباه خود را اصلاح و حتی کلمه‌ی بعد را پیش‌بینی کنید
App Store Description
با استفاده از یک موتور پیش‌بینی قوی کلمات اشتباه خود را اصلاح و حتی کلمه‌ی بعد را پیش‌بینی کنید
این کیبورد به نحوه‌ی تایپ شما عادت می‌کند و پس از مدتی شخصی ترین پیشنهادهای ممکن را به شما ارائه می‌دهد
می‌توانید به صورت لغزشی (سوایپ) کلمات را بسیار سریع تایپ کنید.
با استفاده از این کیبورد می‌توانید از تمام حروف فارسی به راحتی در همه جای سیستم استفاده کنید
دیگر نیاز نیست برای تایپ کردن پ یا گ دکمه ب و ک را نگه دارید. این کیبورد به شما امکان تایپ سریع فارسی را می‌دهد
اگر از ظاهر یکنواخت کیبورد در آیفون یا آیپد خود خسته شده اید این کیبورد برای شماست. با این نرم افزار می‌توانید حتی رنگ سایه های دکمه ها را نیز تغییر دهید
تایپ تمام کاراکترهای مورد نیاز در زبان فارسی. تنها کافی است دکمه ها را چند لحظه نگاه دارید.
با این کیبورد به میان‌برهای تعریف شده در تنظیمات دستگاه نیز دسترسی دارید

امکان تغییر رنگ فونت روی دکمه ها
امکان تغییر رنگ زمینه کیبورد، رنگ دکمه های اصلی و فرعی و رنگ سایه ها

The first and the best Persian keyboard on iOS. You can use it throughout the system.
No need to use Arabic keyboard for typing Persian. No need to hold keys in order to be able to type some main Persian characters.

A great prediction engine powered by Adaptxt lets you correct your mistakes and predict what you intend to type. It even adapts to your personalized style of typing.

You are able to customize the look and feel of the keyboard anyway you want.
Change the color of main keys, accessory keys, keyboard background and even key shadows.

With this app, your possibilities are endless!