The latest Final Fantasy addition to the App Store.
FINAL FANTASY DIMENSIONS II
by SQUARE ENIX INC
watch trailer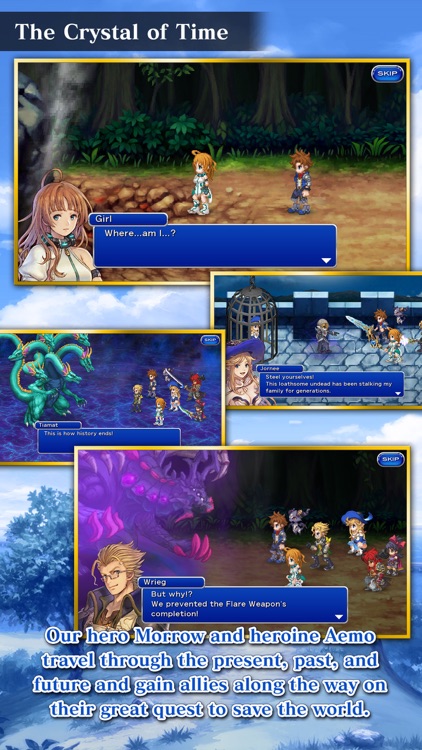 $14.99

in the App Store
Final Fantasy Dimensions II is a new premium Final Fantasy game that is streamlined for mobile platforms.
Complete quests and earn rewards. FFDII is a linear game where you make progress by completing main and side quests. Defeat the waves of enemies and earn experience points to level up and get stronger, while also earning some valuable loot.
Turn-based battles. Like traditional Final Fantasy games, FFDII is turn-based. So your party members and the enemies take turns (indicator on left) attacking each other until one side falls. You can do regular attacks, use abilities, and summon powerful creatures to do your bidding.
Tough bosses. At the end of each major mission, you'll encounter a boss battle. These will be tougher than the normal enemies, and taking them down will get you valuable rewards.
What is it about?
Visually, FFDII is gorgeous and a faithful rendition of what you'd expect from a Final Fantasy game on iOS. Those who have played older titles will feel right at home with the 16-bit pixelated character sprites and lush environments. Character portraits for dialogue boxes is beautifully drawn, and the blue text boxes are familiar. The colors in FFDII are a nice range of bold and vibrant hues to dark and muted tones. Animations are smooth and fluid on my iPhone 8 Plus, with no lag or choppiness whatsoever. The game also has the typical Final Fantasy music and retro sound effects, so old-school gamers get a sense of nostalgia when playing this.
App Store Description
A journey that links the past to the future!

◆◇Game Introduction◇◆
A fascinating cast of characters of different races and eras.
An incredible story that leads you through the past and future to save the world.
Combine your strengths to defeat powerful foes in intense battles.
FINAL FANTASY DIMENSIONS II is an RPG that brings a new legend to the world of FF.

▼A great adventure that transcends time and space
Our hero Morrow and heroine Aemo travel through the present, past, and future and gain allies along the way on their great quest to save the world.
▼Abilities and summon magic
Battle monsters with a simple and strategic active command system!
Select from abilities like magic, skills, and powerful summons to battle terrifying enemies and emerge victorious!
▼Crystals that house the power of the Eidolons
Equip and fight with crystals known as signet stones to acquire new abilities for your characters.
Many of these signet stones possess the powers of summoned beasts from throughout the history of the FF series!

◆◇Story◇◆
The eastern continent of Ajima and the western continent of Westa.
A great disaster caused by human error destroys the civilization of magic that prospered during the Ancient Era and divides the world into east and west, ushering in a long period of conflict between the two.
A young boy named Morrow who lives in Navos, a small island at the center of the world, loses himself listening to tales of Wrieg's travels, a Westan adventurer.
Morrow follows Wrieg after he senses something strange from an odd shooting star and meets a mysterious girl from the future named Aemo.
The world of Eidola exists outside the present, past, future, and beyond.
Say hello and farewell to friends of different eras in a story about a promise for a better future.

■Recommended environment
・Supported Systems
iOS 7.0 and above

・Compatible Devices
iPhone 4S/iPad2/iPod Touch (fifth generation) and above

◆◇Contact us here with opinions, requests, bug reports, and other inquiries◇◆
http://support.na.square-enix.com/

◆◇Official Website◇◆
http://www.jp.square-enix.com/FFL2/en/