Fuel your mind with an app that stimulates both your cognitive and emotional intelligence.
Fit Brains Trainer
by Rosetta Stone Canada Inc.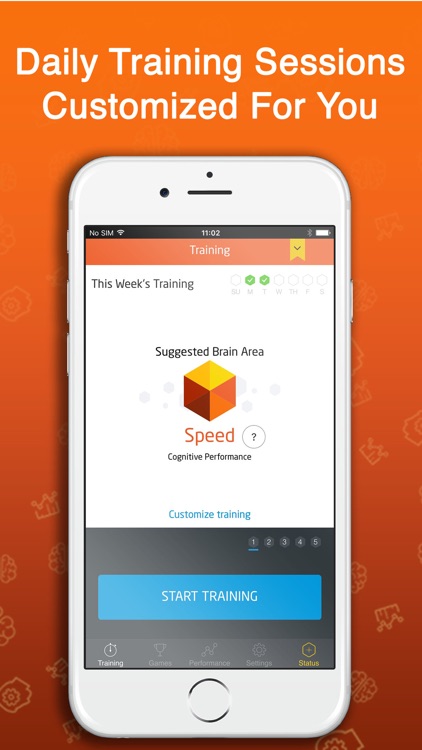 FREE

in the App Store
With over 35 games for iOS and 500 workout sessions, Fit Brains Trainer stimulates both your cognitive and emotional skills. The app offers detail performance reports, training reminders, and Apple Watch support.
Test your memory. Each game begins slowly but speeds up as you progress. Some games, like this memory test, start with four tiles, however, as you move along more tiles will be added. So, do not be deceived in the beginning because the games will certainly challenge your mind.
Check your speed. This game tests how quickly you can sort the items. Tap right or left as the objects in the center drop to move them to the correct category. For example, watermelons go to the right and grapes go to the left. Each game has a time limit so you should move quickly but also try not to make an error.
Game variety and features. There are several games divided by category for a large variety. The games will challenge your memory, problem solving, focus, words, speed, visual, and emotional skills. You can view your performance by category at any time and also compare your results to those in your age group and same gender.
What is it about?
Fit Brains Trainer targets six different cognitive areas including concentration, problem solving, and speed. In addition, it aims to encourage your emotional skills such as self-control, self-awareness, and social abilities. For a complete package concentrating several areas of your brain, Fit Brains Trainer is a must-have app for fans of this genre.
For those who...
Like brain training apps
Enjoy apps that incorporate emotional skills too
Not for those who...
Dislike brain training apps
Do not enjoy apps that stimulate emotional skills in addition to cognitive
Why we love it
Fit Brains Trainer stimulates, motivates, and rewards you by targeting both your cognitive and emotional skills, for a terrific brain training tool combination.
Fit Brains Trainer is FREE but there are more add-ons
$9.99

Fit Brains Trainer 12 Months FULL ACCESS

$7.99

Fit Brains PREMIUM Membership

$24.99

Fit Brains Trainer Lifetime FULL ACCESS

$7.99

Fit Brains PREMIUM Membership

$5.99

Fit Brains Trainer 3 Months FULL ACCESS

$1.99

Fit Brains PREMIUM Membership

$11.99

Fit Brains PREMIUM Membership

$9.99

Fit Brains PREMIUM Membership

$4.99

Fit Brains Trainer 3 Months FULL ACCESS

$19.99

Fit Brains PREMIUM Membership
App Store Description
Fit Brains Trainer has been ranked the #1 education app in over 90 countries. Download our FREE brain training app and join 18 million installers. The only comprehensive brain trainer that can stimulate your IQ and EQ (cognitive & emotional intelligence). Fit Brains Trainer is an award-winning personalized brain games app that challenges you to perform at your best. Our free brain fitness system has 60+ fun games, 500+ workout sessions & in-depth performance reports. Play the widest variety of brain games. Discover an easy and quick way to stimulate your mind. Download for FREE now! You'll love the results.

**Apple's Best Apps of the Year, AppStore Best, Editor's Choice, Rated 4.5 out of 5 stars worldwide**.

WHY BRAIN TRAINING?
Recent studies reveal the importance of exercising your brain
- The Western World's average IQ has dropped significantly
- The average person forgets 4 things every day
- A goldfish has a longer attention span than the average American
- 90% of top performers have high EQ
- Americans with higher EQ make $29,000 more

BENEFITS & FEATURES
Fit Brains targets all 6 major areas of the brain: Memory, Speed of Thinking, Concentration, Problem Solving, Language and Visual-Spatial. Plus, it targets EQ, Emotional Intelligence, the ability to recognize and manage your own and other people's emotions, in 4 key areas: Self-Control, Self-Awareness, Social Awareness and Social Skills.

- 60+ games (35 in iOS app, 60+ on website): fun, rewarding, adapts as you progress
- In-depth performance reports: identify where to improve & compare scores against others
- 500+ customized daily workouts, training reminders
- 24/7 access across Mobile, Web, Apple TV, Apple Watch
- Plus more, download & see for yourself!

SCIENCE OF FIT BRAINS
Fit Brains is designed by neuroscientists, game and education experts to make training fun and challenging. Dr. Nussbaum is a leading brain expert in clinical Neuropsychology and our Chief Science Officer.

IN THE NEWS
Mashable, Wall Street Journal, USA Today, Women's Health & more
Apple: App Store Best, Best App, Editor's Choice

CBS:
"It's a game playing product but the twist here is that all of the games help exercise and train your brain!"

Discover Magazine:

"What's unique: Complex, richly illustrated and thought out brain games with different levels and storylines...Very dynamic."

AND MORE…
Learn more @Fitbrains.com. Bonus: Additional games exclusively on our website.

Or try one of our other fun brain fitness & health products:
- Fit Brains PREMIUM: Join our full program to access unlimited brain training and 60+ brain games across Mobile and Web
- Fit Brains for Kids: Sparky's Adventures
- Fit Brains Trainer for Apple Watch: Play 3 new games specially-designed to stimulate your brain.

CONTACT US
GENERAL INQUIRIES: [email protected]
TWITTER: http://twitter.com/fitbrains

FACEBOOK: http://www.facebook.com/FitBrainsCommunity
BLOG: http://www.fitbrains.com/blog
FAQS: http://www.fitbrains.com/support/
TERMS OF USE: http://www.fitbrains.com/terms/

FIT BRAINS PREMIUM
Subscription options

1 month: USD $9.99 / £7.99 / 8,99 €
1 year: USD $49.99 / £39.99 / 44,99 €
2 years: USD $74.99 / £54.99 / 64,99 €
Lifetime: USD $199.99 / £149.99 / 179,99 €

Your Premium subscription will automatically renew at the end of each term and will be charged through your iTunes account. You can turn off auto-renew from your iTunes account settings, but refunds will not be provided for the unused portion of the term.