Database of 7,000+ Foods Includes Nutritional Facts
Food Labels With Nutritional Facts
by MyAppBuilder.com, LLC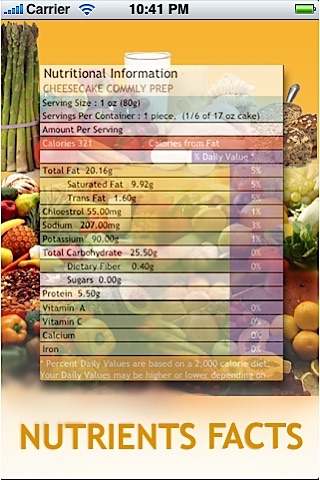 What is it about?
Database of 7,000+ Foods Includes Nutritional Facts
App Details
Genre
Health & Fitness
Reference
Last updated
July 6, 2009
Release date
July 5, 2009
App Store Description
Database of 7,000+ Foods Includes Nutritional Facts

MCDONALD'S BACON RANCH SALAD W/ CRISPY CHICK
CRACKERS,RYE,SANDWICH-TYPE W/CHS FILLING
CANDIES,5TH AVENUE CANDY BAR
PILLSBURY,CHOC CHIP COOKIES,REFR DOUGH
SALAD DRSNG,MAYO,IMITN,SOYBN WO/CHOL
TURKEY,YOUNG HEN,SKN ONLY,CKD,RSTD
CHILD FORMULA,MEAD JOHNSON,PORTAGEN,W/ IRON,PDR,NOT RECON
COOKIES,VANILLA SNDWCH W/CREME FILLING
GRANOLA BARS,HARD,PNUT BUTTER
COFFEE,INST,W/SUGAR,FRENCH-FLAVOR,PDR
COOKIES,GRAHAM CRACKERS,CHOCOLATE-COATED
COOKIES,SUGAR,REFR DOUGH,BKD
PIE CRUST,COOKIE-TYPE,CHOC,READY CRUST
PIE CRUST,COOKIE-TYPE,PREP FR RECIPE,GRAHAM CRACKER,CHILLED
SALAD DRSNG,RANCH DRSNG,COMM,REG
TRAIL MIX,REG,W/CHOC CHIPS,SALTED NUTS&SEEDS
TRAIL MIX,REG,W/CHOC CHIPS,UNSALTED NUTS&SEEDS
CANDIES,PRALINE,PREPARED-FROM-RECIPE
CANDIES,MOUNDS CANDY BAR
CANDIES,PNUT BRITTLE,PREPARED-FROM-RECIPE
ARCHWAY Home Style Cookies, Sugar Free Chocolate Chip
POTATO CHIPS,WO/SALT,RED FAT
CANDIES,MASTERFOODS USA,SNICKERS CRUNCHER
COOKIES,CHOC CHIP,PREP FROM RECIPE,MADE W/BUTTER
COOKIES,CHOC CHIP,PREP FROM RECIPE,MADE W/MARGARINE
CEREALS RTE,GRANOLA,HOMEMADE
FISH,HERRING,PACIFIC,FLSH,AIR-DRIED,PACK OIL (ALASKA NATIVE)
TORTILLA CHIPS,PLAIN
CHIA SEEDS,DRIED
Crackers, cheese, sandwich-type with cheese filling
POTATO CHIPS,BARBECUE-FLAVOR
Snacks, FRITOLAY, SUNCHIPS, Multigrain Snack, original
SNACKS,FRITOLAY,SUNCHIPS,MULTIGRAIN,HARVEST CHEDDAR
CANDIES,MASTERFOODS USA,M&M'S MILK CHOC CANDIES
COOKIES,CHOC CHIP,REFR DOUGH,BKD
NABISCO,NABISCO RITZ CRACKERS
SNACKS,TORTILLA CHIPS,PLN,YEL CORN
CANDIES,WHATCHAMACALLIT CANDY BAR
CRACKERS,STD SNACK-TYPE,SNDWCH,W/PNUT BUTTER FILLING
INF FOR,ME JOH,ENF,NUTR LIPIL,W/ IRO,PDR,NOT RE,W/ ARA & DHA
PEPPERONI,PORK,BEEF
PIE CRUST,COOKIE-TYPE,PREP FROM RECIPE,GRAHAM CRACKER,BKD
CANDIES,REESE'S FAST BREAK,CANDY BAR
CRACKERS,WHEAT,SNDWCH,W/PNUT BUTTER FILLING
CREAM SUB,FLAV,POWDERED
GRANOLA BARS,HARD,ALMOND
CRACKERS,CHS,SANDWICH-TYPE W/PNUT BUTTER FILLING
MILK,DRY,WHOLE
POTATO CHIPS,CHEESE-FLAVOR
Snacks, sweet potato chips
SNACKS,FRITOLAY,SUNCHIPS,MULTIGRAIN SNACK,FRENCH ONION FLAVR
ARCHWAY Home Style Cookies, Chocolate Chip Ice Box
CANDIES,REESE'S PIECES CANDY
COOKIES,CHOC CHIP,DRY MIX
COOKIES,CHOC SNDWCH,W/EX CREME FILLING
CRACKERS,WHEAT,SNDWCH,W/CHS FILLING
SNACKS,TORTILLA CHIPS,NACHO-FLAVOR,MADE W/ENR MASA FLR
TARO CHIPS
BUTTER,LT,STK,WO/SALT
CORN-BASED,EXTRUDED,ONION-FLAVOR
ARCHWAY Home Style Cookies, Pecan Ice Box
CANDIES,NESTLE,CRUNCH BAR&DSSRT TOPPING
Disclaimer:
AppAdvice does not own this application and only provides images and links contained in the iTunes Search API, to help our users find the best apps to download. If you are the developer of this app and would like your information removed, please send a request to
[email protected]
and your information will be removed.