The app gives all users access to rich game analysis including:
Football Stats
by Galexy Pty. Limited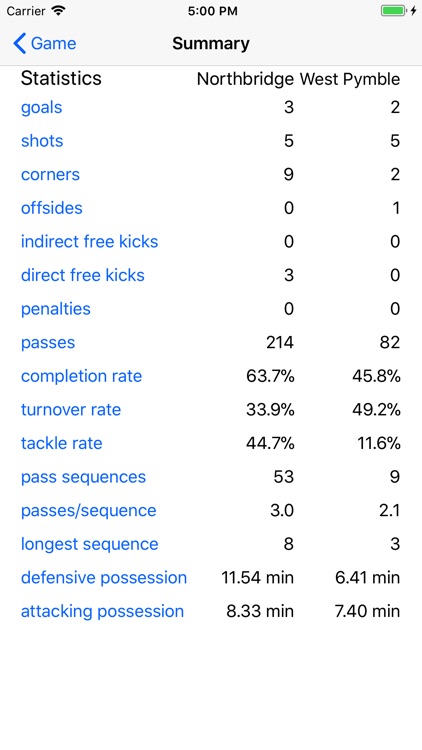 What is it about?
The app gives all users access to rich game analysis including:
Football Stats is FREE but there are more add-ons
App Store Description
The app gives all users access to rich game analysis including:

- Detailed summary statistics about numbers of passes, pass completion rates, and average numbers of passes that are strung together.
- Zone analysis (breaking the field up into varying numbers of zones) showing pass completion rates, passing direction, passes, goals, missing shots etc.
- Charts showing cumulative metres gained going forward, attacking and defensive pass completion rates, attacking and defensive possession time, and attacking and defensive passing speeds.
- Play-by-play review of set plays (corners/goal kicks/keeper restarts/goals) and long passing sequences.
- Charts showing key performance indicators across the course of the games in a season.

Use the detailed game data to understand team performance. Quickly look for patterns of play leading to success and failure in set pieces such as corners, goal kicks and throw-ins. The necessary information is readily available to underpin coaching points in half-time and post-game talks.

The detailed game analysis can also be used to design training sessions around the coaches' preferred performance measures. Team-level analysis makes it easy to track those performance measures over the course of the season.

Use simple gestures to capture first touches by the players as the action happens in front of you or while you watch the game replay on video. Football Stats makes it easy for you to track passes, intercepts, shots, goals, keeper saves, and various stoppages in play.

A quick demo helps new users learn the small number of gestures required to capture game data. The learning curve is quick and you will be up and running within minutes. Once the gestures have become familiar, you will find it easy enough to use the app while engaging with others on the sideline. Mistakes can be quickly deleted using the event history shown across the bottom of the screen.

A lengthy explanation of the data capture system is now available (https://footystats.info/#tutorial) for those who want detailed information about how to handle throw-ins, free kicks and other types of events in the game. The website also includes a Youtube video showing how data capture is done using a combination of footage from a real game and screen capture from the app.

All game-events include their time and their location on the pitch, allowing for graphic replay of the events from the start to the end of each match. The event data quickly reveals repeating patterns in play-by-play action.

At the end of the game, email your team with a game summary and the full set of game data for custom analysis.

Your game data can be backed up to the cloud and can be restored to the same or different devices to mitigate the risk of data loss. Cloud access requires authentication using a Google account.

Using the cloud, you can share game data and performance analysis with supporters and team members. Just add the Google account email addresses of each team member and they will be able to download your data to their own devices (for review but not editing) and they can also view game and season analytics on the footystats.info website.

The app supports football/soccer and futsal. It can be used for teams of any size, age, and skill level, playing on pitches of any size and playing games of any duration.

The free version of the app is fully functional for the first 4 games. Thereafter, if you find the information useful, a small one-off payment provides ongoing access to data-capture functionality. The analysis features of the app remain available to all users without requiring payment.