Forgetful

Getodo - Easy to-do and task list
by Webows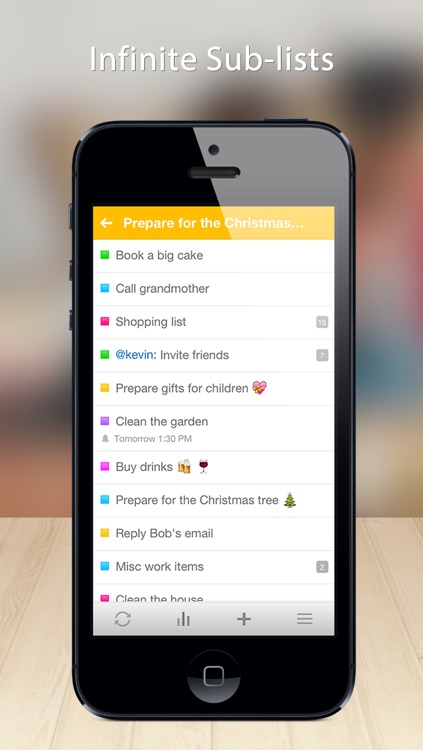 $0.99

in the App Store
An elegantly simple task manager that allows you to break tasks down into sub-tasks in seconds and share them among friends.
What is it about?
Forgetful? Often procrastinate? Feeling inefficient?
For those who...
It's an ideal productivity app for those who often find themselves putting off large tasks since you can break them down into more doable bits.
Not for those who...
Honestly, there's very little that Getodo fails at. The only problem we've come across is sporadic syncing.
Why we love it
If you need an easy way to create, manage, and share tasks, you've found it. Getodo's superior gesture-based interface will stop procrastination in its tracks.
App Details
Genre
Productivity
Social Networking
Last updated
December 3, 2014
Release date
July 28, 2012
App Store Description
Forgetful? Often procrastinate? Feeling inefficient?

All you need is a simple and effective tool to help you manage all your personal matters, like Getodo!

So, how is Getodo different? Well, it has many distinctive features:

- Intuitive and elegant interface design
- Seamless interaction: drag-and-drop to prioritise, promote/demote tasks
- Easy breakdown of tasks into smaller, more do-able bits to help you tackle procrastination
- Ability to review your task with visualised task progress chart and allow you to adjust time allocation to improve efficiency
- Ability to delegate tasks to others to allow collaboration with transparency of each other's progress status
- Ability to share task list, like sharing a shopping list with your partner
- Cloud-based synchronisation to allow you easy access to your tasks anywhere, anytime
- More supprise just after your download:)

#Featured in Apple's iPhone5 AD!
#Recommended by AppAdvice, ifans, best10apps#

***Key Features***
- Break down tasks recursively
- Delegate tasks to other people
- Share lists with others
- Colorful tasks for category or priority
- Landscape support
- Cloud sync
- Web interface to manage tasks
- Beautiful themes
- Set reminder for tasks
- Review tasks by chart and calendar
- Gestures and cool animations

You can also learn more from our website: http://getodo.com

So, go head, we invite you to try Getodo!

*** What our customers say ***

* "Wow !! - This is how an iPhone/iPad to-do app should work. Intuitive, flexible and powerful. On the power side: multiple tiers of to-dos/projects. On the flexible side, it is super easy to promote, demote and move subtasks. Love it." -- C.greaves

* "I love this app! Set up lists for everything, and the color coding helps me differentiate. I enjoy not having to date everything. Plus who doesn't love crossing things off a list?? Lol" --Ms.Liss

* "This is a great to-do app. I use it like a daily scheduler because of the simplicity. I've been searching for a app like this and finally found it. I love how you can regroup tasks within each other and take them back out." --EdZillaah

* "Best to-do/checklist app I've come across. Main features that work for me: cloud sync,nested lists,simple/focused,looks great,share tasks. This app is sure to get very popular..." --Drdrink

Also, we would love to hear from you, if you have any suggestions for us to better improve Getodo!

E-mail: [email protected]
Twitter: http://twitter.com/getodo
Sina Weibo: http://weibo.com/getodo