The star of Big and Cast Away wants to help you get your work done. No, really.

Hanx Writer
by Hitcents.com, Inc.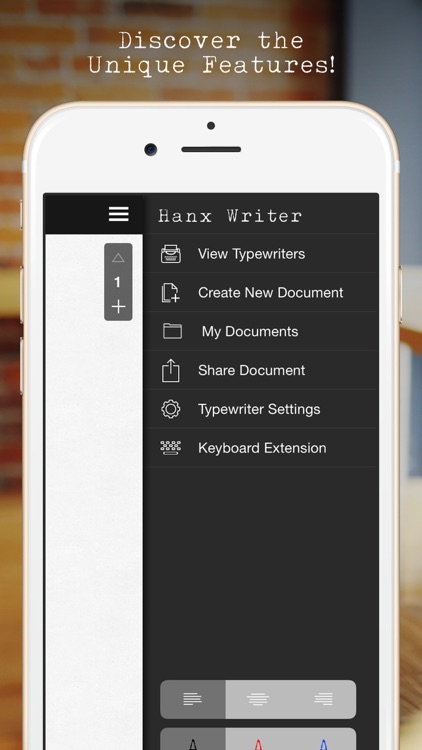 What is it about?
Hanx Writer has all of the modern features and options that you've come to expect from new-fangled technology, but it collects them in a bygone package. It re-creates vintage typewriters in all of their loud, clackety glory. You can even use these special keyboards in other apps, like Notes, if you want to keep things classy all over.
Why we love it
Classic typewriters are bulky, tough to use, and ridiculously loud. And we really miss them. Hanx Writer captures their charm without making you type on a 15-pound hunk of machinery. And it has a Delete key, which is something those relics were always lacking.
Hanx Writer is FREE but there are more add-ons
$0.99

Hanx Writer Keyboards

$4.99

Writer's Block Bundle

$2.99

Hanx 707

$2.99

Hanx Golden Touch

$9.99

Signature Collection

$5.99

Signature Collection

$2.99

Hanx Del Sol

$2.99

Hanx Electrix

$2.99

Hanx Matterhorn

$7.99

Signature Collection
App Store Description
Hanx Writer expands recreating the permanence of a typewriter with the convenience of your iPad and iPhone.

As ever, the report of SHOOK SHOOK and KLOCK-KLOCK is mated with the luxuries of the DELETE key. Your typewriting will be true word-processing with the look, feel, and sound of a classic writing machine. Every Hanx Writer document can be emailed, printed – shared! – with a personality as unique as the person who creates it.

And, Hanx Writer is on the go! Enjoy the tactile thrill of typing up text messages, emails, notes and more in most third-party apps that use a keyboard.

Explore the complete Hanx Writer typewriter collection: The Hanx Prime Select is writers best friend (and it's FREE); take the Hanx 707 on any journey and admire the elegance (and the fitt-fitt) of the Hanx Golden Touch. Each machine is unique.

And now, there's more! The Hanx Matterhorn is born of Swiss Precision - sharp & imposing; The Hanx Del Sol glows bright & brilliant with promise; and the Hanx Electric will help you write your story, your way.

You already know how to work them – so get writing!

Tom Hanks