Find Easter Eggs and drag them into your Easter Basket to earn points

Hidden Egg Hunt
by Allen Heidorn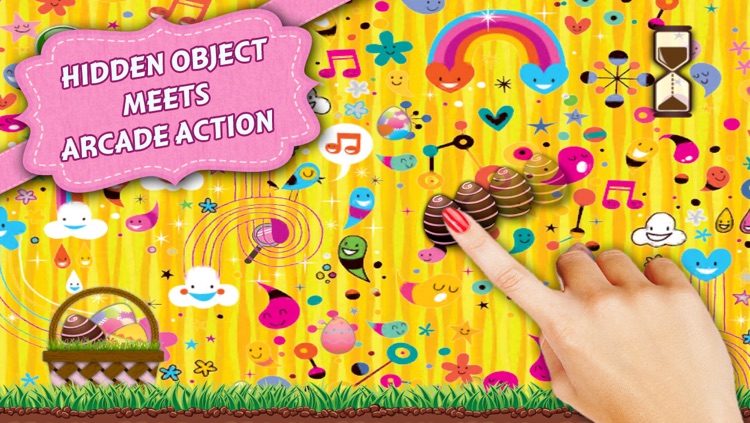 What is it about?
Find Easter Eggs and drag them into your Easter Basket to earn points!
Different levels. Work your way through different levels and worlds.
Check out the points. See what each type of egg is worth and what other goodies can be found.
Drag the eggs to the basket. Just tap and drag the eggs to the basket to score.
Hidden Egg Hunt is FREE but there are more add-ons
$0.99

Premium Package 2.0

$4.99

3000 Tokens

$1.99

750 Tokens

$0.99

250 Tokens

$0.99

Premium Package

$2.99

1500 Tokens

$2.99

175 Token Pack

$0.99

32 Token Pack

$4.99

444 Token Pack

$1.99

85 Token Pack
App Store Description
Find Easter Eggs and drag them into your Easter Basket to earn points!

❄❉ Hidden Object meets Arcade Action in a Race against the Clock ❄❉

- The hunt is on to find Easter Eggs and fill your basket before time runs out!

•Collect as many eggs as you can in 1:00!
•Find the rare gold egg, bonus game eggs, X-ray vision and time boosts.
•11 colorful scenes filled with fun Holiday imagery & music
•Never the same game twice with randomly placed eggs

Upgrade to PREMIUM to Unlock:

•300% chance of finding Tokens
•Removal of Ads
•100 Point Platinum Eggs!
•125 Bonus Tokens

- Keep playing to compete for a high score ... or just relax and find eggs in this springtime treat.

We welcome your feedback for forthcoming updates, happy egg hunting!

- The Team at Zivix