Welcome to a day in the life of a lovable monster
Highlights Monster Day
by Highlights for Children, Inc.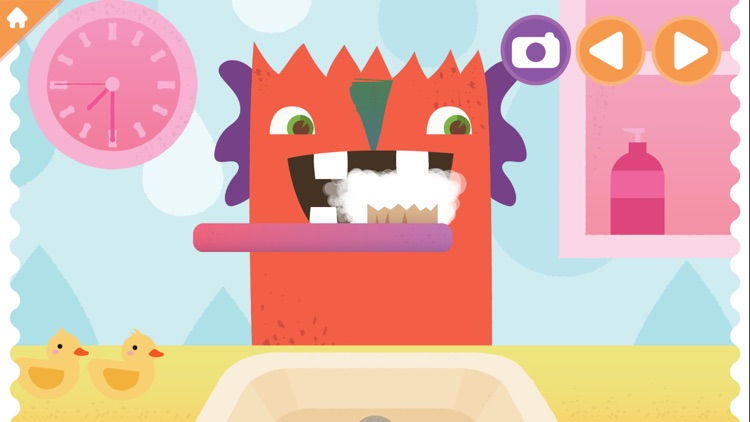 What is it about?
Welcome to a day in the life of a lovable monster! Choose your favorite friend and care for him from morning till night: brush his big yellow teeth, feed him bagels, help with his science experiment and play basketball. Then, wash and feed your monster and gently put him to sleep.
Choose a monster. The app will teach your child about friendship by exploring the world around them. They get to choose one of five friendly monsters and guide them through their day.
Brush teeth with monster. Your child will be tasked with helping their monster brush their teeth, eat breakfast, complete school projects, wash up, and more.
Complete school project with monster.
App Store Description
Welcome to a day in the life of a lovable monster! Choose your favorite friend and care for him from morning till night: brush his big yellow teeth, feed him bagels, help with his science experiment and play basketball. Then, wash and feed your monster and gently put him to sleep.

Help your preschooler learn about friendship, explore the world around them, and develop compassion, kindness and independence with Highlights Monster Day. From Highlights for Children, the brand parents trust!

Highlights Monster Day is designed and developed by Italian creative studio Colto.

Winner of a 2016 Parents' Choice Silver Award and Winner of the 2016 Editor's Choice Award from Children's Technology Review!

Kids will benefit from:

* Meaningful lessons about everyday life
* Confidence in making decisions as they care for their monster
* Creativity and curiosity as they explore everyday activities
* Development of fine motor skills
* Emotional growth in compassion and kindness
* Security of an ad-free environment with no in-app purchases

Features:

* Five friendly monsters to choose from with an opportunity to unlock more
* Up to thirteen morning, school and after-school activities
* Breakfast, lunch and dinner activities
* Photo feature in every scene

Highlights Monster Day is the ideal first app for kids 3+, and easy for kids to play on their own.

Highlights Monster Day is designed and developed by Italian creative studio Colto.

More on Highlights Monster Day:

PROMOTES CARING VALUES
This game is based on the positive values of kindness, compassion and friendship, and inspires kids to think about others. In the game, the player makes friends with a monster and cares for him. This builds character and confidence in young children by making them feel good about themselves.

PROVIDES MEANINGFUL LEARNING

The game portrays monsters in the context of a child's everyday routine, so lessons such as regularly brushing teeth and going to school are relevant.

DEVELOPS FINE MOTOR SKILLS

In the game, children tap, swipe, complete circle rotations, drag and drop, and pump levers. Some activities require quick reflexes on these actions. These activities and finger motions improve fine motor skills for preschoolers.

ENCOURAGES EXPLORATION

Young children can have fun discovering 16 different scenes in the daily life of 5 different monsters, including ringing an alarm clock to wake him up, feeding him exotic fruit for breakfast and investigating semi-precious stones in geology at school.

INCLUDES PHOTO FEATURE

Take photos of favorite activities in your monster's day and save them in your device's photo gallery.

ABOUT US

Highlights for Children
For 70 years, Highlights for Children has been helping kids become their best selves through Fun with a Purpose™ magazines, puzzle clubs, games, books, toys and digital products.

Founded by Dr. Garry and Caroline Myers in 1946, Highlights was built on the belief that "Children Are the World's Most Important People™". Today, every Highlights product is designed to help children become creative, curious, caring and confident.

Colto
Colto is creating imaginative and educational mobile play experiences for kids around the world based on original and branded properties. Our team, made up of a Mum/Teacher and talented game designers and developers, strives to develop high quality educational Apps that kids love and parents trust. Our games are ethical, safe and designed to be non addictive for kids.

Required iOS7 onwards