Highwind is a beautiful arcade shooter that is unlike anything you've played before.
Highwind
by Selva Interactive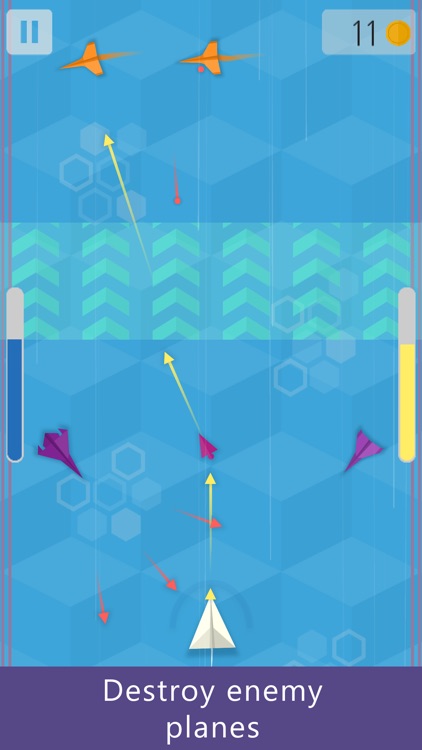 Different modes and planes. In Highwind, you can unlock new planes and game variations by reaching enough points. The planes have different stats and the gameplay changes with each variation.
Challenging mini-games. Between rounds, players must face mini-games of obstacle avoidance. If you hit an obstacle, you lose your coins that you acquired previously. These coins are needed to purchase upgrades for your plane that only show up between rounds, so be careful!
Unique shooting experience. In Highwind, your plane does not move. Instead, you control it by activating shields and shooting ammo, but these are in limited supply too, so use them wisely and at the right time. You can also take advantage of stage obstacles to get your bullets where they need to go, and watch out for enemy weaknesses!
What is it about?
Visually, Highwind has a simple and clean aesthetic that works well. Since the focus in Highwind is on paper planes, the graphics feature a paper origami style look and texture that is basic but pops out thanks to the color and shading. It's reminiscent of games like [KAMI 2](https://appadvice.com/review/kami-2), which is lovely. Highwind's color palette is a great mix of bold and vibrant hues with subtler, muted tones, so everything contrasts nicely. Animations are buttery smooth and fluid on my iPhone 8 Plus, with no lag or choppiness in frame rate. There's also an upbeat and soothing atmospheric soundtrack that I found rather relaxing. The sound effects are fun and sci-fi style. The developers did an excellent job with Highwind's visual and audio design.
App Store Description
In Highwind you control a paper plane using only two buttons. You will destroy enemy planes and protect your own. Tapping the right side of the screen will shoot bullets and holding the left side will activate the shield. The shield blocks and reflects bullets back to your enemies.

Fight different enemy planes and obstacles, each with different behavior. Travel to different dimensions and avoid obstacles on the way.

As you progress through the game you will be able to purchase upgrades to your health, shield and ammo. Also, each time you beat a level you will get a power up that will help you defeat your enemies.

Each time you play you will accumulate points that will unlock new planes and new game styles. Try to beat the game in each one of the different styles!

Features

-Simple controls: Play with only two buttons
-Different game styles: Five variations of the game including an infinite mode
-Minigames: Three additional sections with different mechanics
-A different experience each play: Enemy waves are randomly selected from a predefined set
-Upgrades and power ups: Purchase upgrades to your shield, ammo and health. Get a power up every level
-Different airplanes: Unlock new airplanes with different stats