Travel more for less and fill your sightseeing bucket list
Hitlist
by TripCommon Inc.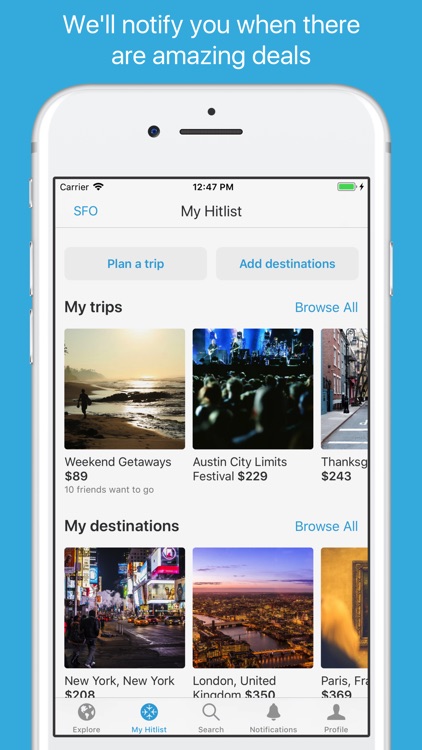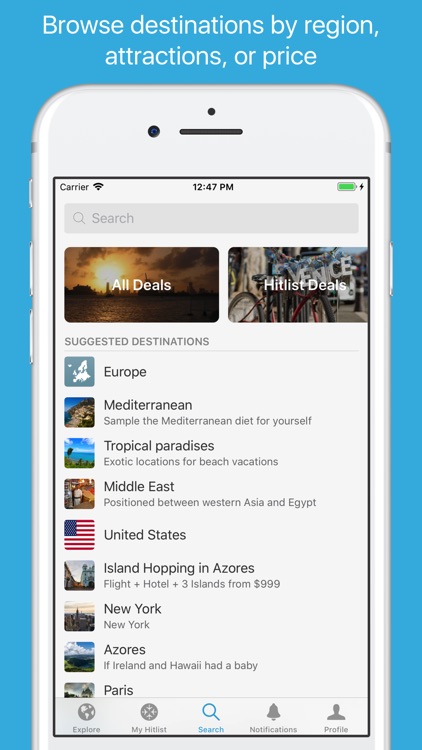 FREE

in the App Store
Hitlist lets you tell the app what trips you want to take, and then let the experts tell you when or where to go.
Create your bucket list of travel destinations. Hitlist is a social travel app that allows you to set up a bucket list of places you want to visit. You can share the list with friends and family members, who can advise you what to see and what to pass up. The Hitlist app will also provide you with amazing deals on airfare as they pop up, so you can find out quickly if there's a bargain too good to pass on. The only drawback to Hitlist is that it focuses just on airfare, and doesn't include a way to find good places to stay on a budget.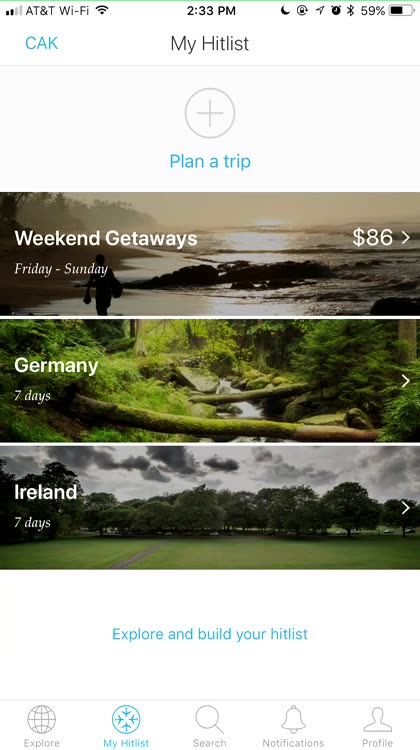 Find great weekend getaways. Through your Hitlist, you can find travel destinations you might not have thought about before. Weekend getaways are easily located, and they're all based on your home airport. This means that when you get a free weekend and want to travel somewhere, you can definitely find a spot to visit that meets your budget. You can also plan your trips here, letting Hitlist notify you when airfare drops enough to make the trip of your dreams a reachable goal.
Create the trip of your dreams. WIthin Hitlist, you can search for literally any travel destination in the world. Save your trip, and Hitlist will either provide you with a great airfare deal to that location or quietly save itself to your profile. Later, when a bargain is available, you'll get a notification so you can book the trip and catch the best price possible on your airfare.
What is it about?
When you set up Hitlist, you should definitely visit the "My Hitlist" tab. This is where you can search for trips you already know you want to take, and how long you want to spend visiting those places. Hitlist will try to find the best deals on travel to those locations, but will allow you to set up a notification if there's no good deal at the time. The app will then tell you when a great fare shows up. You can also check out personalized recommendations based on your home airport, like weekend getaways. It's a very useful way to find the best deal, since Hitlist scours various sites to get the most economical fares.
For those who...
Who are flexible in when they travel
Want to see the world on a budget
Not for those who...
Need to travel right away
Don't care about getting the best deals
Why we love it
Hitlist is more than just a travel agent app. It's a bucket list for those places you want to visit, but only when you can get the best deal. The app allows you to set up a "hitlist" in your profile, sharing that information with other members of the app's community. That way, they can help you find great places to visit and even let you know if they spot a good deal. Of course, Hitlist will also notify you of any great deals that come up to places on your bucket list.
Hitlist has stickers
like these
and more
App Store Description
One of TIME's 50 Best Apps of 2016.

Travel more for less. Tell us about the trips you want to take, and we'll tell you when or where to go.

We send you the best deals, tailor made just for you and your interests. We scan millions of fares and bring you the best itineraries to help you know the optimal time to travel.

Hitlist has been featured in the New York Times, TechCrunch, VentureBeat, The Next Web, LifeHacker, CNBC and more.

• Receive highly targeted travel deals via email or push notifications.
• Access amazing flight deals based around flexible dates or destinations.
• Browse beautiful photos of all your dream destinations.
• Search broadly by continents, regions, beaches, islands, activities, and more.
• View historical airfare prices and make smarter travel purchases.
• See where your friends want to go and plan your next trip together!
• Enjoy travel themed stickers designed by our friends at flat-icons.com

Hitlist is brought to you by a team of dedicated international travelers who believe that travel is vital to health, happiness, and, you know, world peace. Join the movement and download Hitlist today.