The stars are yours to keep.
Hungry Squid
by Michal Malewicz
watch trailer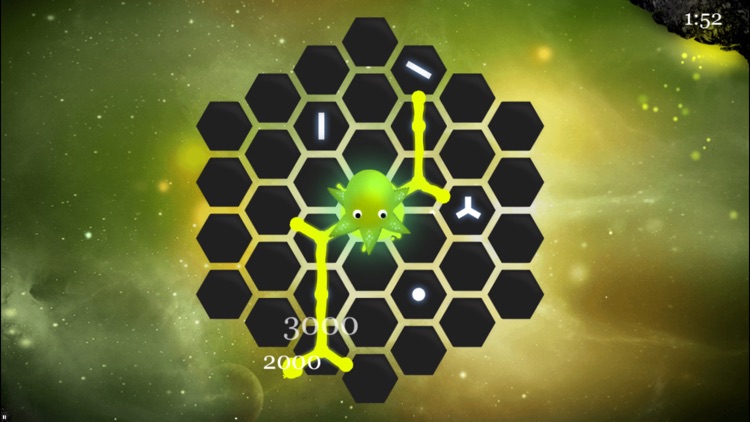 What is it about?
What it is ?
For those who...
It's for fans of logic puzzle games.
Not for those who...
Due to its unique gameplay, Hungry Squid can be difficult to get the hang of. Make sure to check out the help menu before jumping in.
Why we love it
If you're tired of the same old puzzle game formula, check out Hungry Squid today. The gameplay is like nothing you've tried before.
App Store Description
What it is ?
HungrySquid is a game about squids (duh!) in space, trying to find as many exits from a hexagon maze as possible. The more you find, the better!

Ok, tell me more?
It's a story (we also have a free iBook) of intergalactic squid solving space puzzles to get a very prestigious job - the keeper of long forgotten stars and planets. As one of six squids - each with it's own personality and goals - you will travel through space, time and mind bending puzzles, all to the tune of ambient space music.

Are you ready to save the universe from collapse?

HungrySquid has been downloaded hundreds of thousands of times so far. Join the club! :)

HOW TO PLAY
Rotate the circles and then tap on the squid to see how the ink flows through each of the stones. Then align them to have as many exits as possible.

The game features an innovative gameplay mechanism, that isn't a clone of any puzzle game before it. Combine that with awesome graphics and sound, add a spice of addictive gameplay and you'll have one Hungry Squid on your iDevice!

KEY FEATURES:
• 90 levels in 6 chapters
• Universal app!
• Achievements & Leaderboards
• Innovative gameplay, that's easy to learn, but hard to master
• Amazing graphics and music (Now even better!)
• Engaging story mode
• SQUIDS IN SPACE! Come on ;)
• FREE iBook with illustrated storyline from the game (available in the iBookstore)
• The amazing soundtrack is available for FREE!

--------------------------------
We have put our hearts, a lot of time and a lot of effort into this game. We hope you enjoy playing it as much as we enjoyed creating it.
--------------------------------

WHAT PEOPLE SAY

"HungrySquid is a fantastic new puzzle game that is unlike anything you've played so far."
AppAdvice.com

"Unique puzzle game" + "Stylish graphic and music"
8/10 qappreview.com

"Amazing graphics with a compelling puzzle gameplay..."
iTopNews.de

"...New, innovative puzzle game that stands out from the crowd."
AppChronicles.com

"An enjoyable and absorbing puzzle game..."
iPhoneGamer UK

"A must have for IOS devices!"
Apple.Digital.it

"Another good looking puzzle for the iPhone"
MacKozer

"One of the most interesting puzzle games this year!"
Appdnia.pl


"A different kind of puzzle game! Yes, different! Let's rejoice."
Arcadelife