Speak without words.
ICOON global picture dictionary
by AMBERPRESS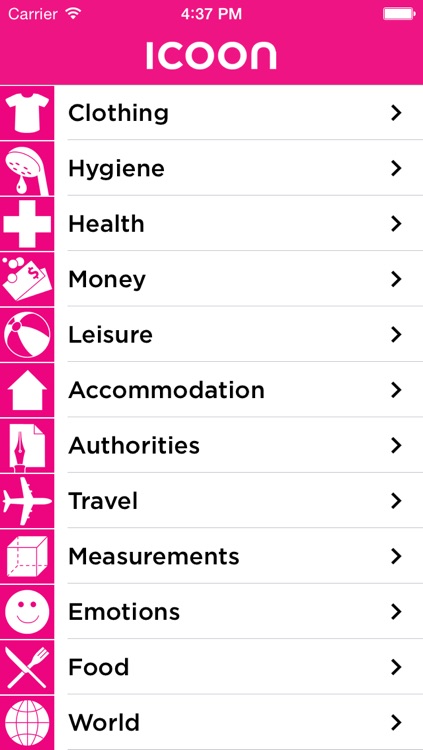 What is it about?
"Those who want to go abroad should download ICOON"
For those who...
It's ideal for world travelers.
Not for those who...
None of the pictures can be copied or shared.
Why we love it
If you haven't quite mastered the language of the region you're traveling to, you won't find a better app to accompany you.
App Store Description
"Those who want to go abroad should download ICOON"
CNET

"I am confident, ICOON will become one of the most useful application in your iPhone." iphone.blogvasion.com

"ICOON is a cool iPhone app based on a book of the same name. It's an image dictionary, categorized for ease and speed"
NextGreatThing.com


The book bestseller ICOON global picture dictionary, is now conveniently available for your iPhone and iPad!

ICOON is a universal phrase book no savvy traveller is complete without. You don't need dictionaries in different languages to communicate on your journeys: Just use ICOON! This collection is as hands-on as it is humorous and divides essential everyday symbols into twelve different categories: from clothing, hygiene products and health to administration and leisure activities. Regardless of whether you need a toothbrush, safety pin or swimsuit, or want to explain hay fever without using words. ICOON speaks the world's most universal language: pictures.

This special digital version offers a selection of the most important symbols from the bestselling designer icon collection. Over 1000 symbols from bandage to broccoli.

* Over 1000 symbols in 12 categories
* Categories translated in several languages
* Works in every country in any language
* Life-saving symbols for emergencies
* World and continent maps
* For business and leisure travellers

CATEGORIES:
* Clothing
* Hygiene
* Health
* Money
* Leisure
* Accommodation
* Authorities
* Travel
* Measurements
* Emotions
* Food
* World

Let ICOON speak for you and have fun traveling the world!


What the press writes about the idea of ICOON:

"The Little Book of Helpfulness"
(GQ)

"Europe is impressed! ICOON –
a dictionary without words" (ELLE)

"The wordless phrase book!"
(COSMOPOLITAN)

"The perfect travel companion"
(MOLESKINE City)

"Einfach wie praktisch. Ein Wörterbuch
ohne Worte im Taschenformat" (BILD)

"Wer ins ferne Ausland reist sollte
das globale Bildwörterbuch ICOON
im Gepäck haben." (Die Welt)

"Mensajes básicos que llevan lejos"
(EL PAIS)