iGenogram is an iPad app developed to assist you in drawing beautiful standardized genograms with no graphical efforts and support you during analysis
iGenogram: Genogram Editor
by iLogoTec srl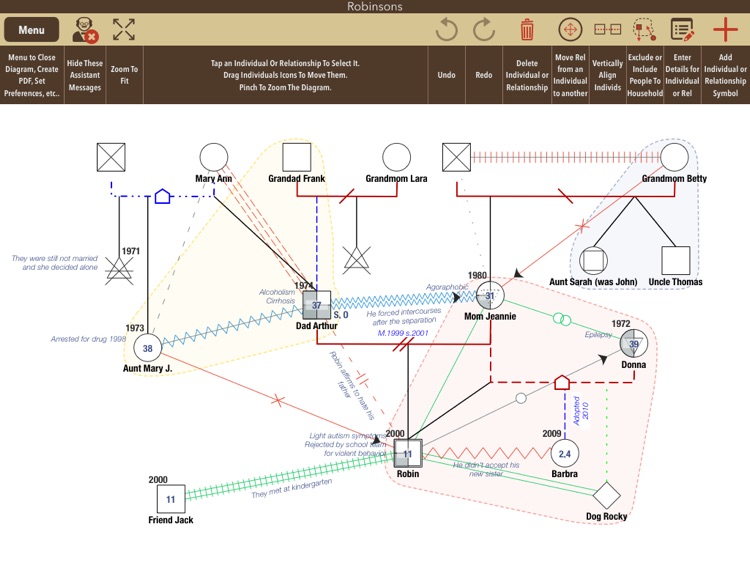 What is it about?
iGenogram is an iPad app developed to assist you in drawing beautiful standardized genograms with no graphical efforts and support you during analysis.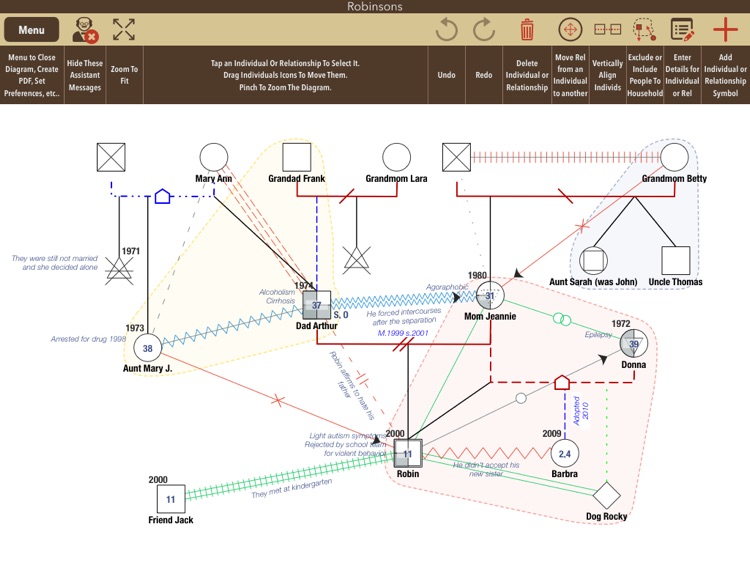 App Store Description
iGenogram is an iPad app developed to assist you in drawing beautiful standardized genograms with no graphical efforts and support you during analysis.

Genograms are extremely powerful tools for any LCSW (Licensed Clinical Social Worker), MFT (Marriage and Family Therapist), Relationships Counselor, Psychologist, Psychiatrist and anyone interested in psychology of relationships among families members.

However, a lot of time and some talent for drawing is essential to produce neat and professional diagrams. Moreover, additional efforts are needed to organize notes collected during analysis and counseling interviews.

With iGenogram, you can easily draw and update genograms using many predefined symbols for: Individuals, Couples, Child-Parents ties, Emotional relationships between individuals and represent Households i.e. people sharing same home. Please see screenshots to discover all available symbols.
Even very specific situations, not fully covered by predefined symbols, can be managed using the free text labels that can be attached to each individual and relationship.

In addition, iGenogram allows you to collect optionally dated textual notes documenting significant events for the whole family or linked to a specific person, a family or emotional relationship. Births and deaths are automatically recorded as events.
Notes are not printed in the genogram but a chronologically ordered list of them can be browsed to identify and deepen any coincidence between recorded events.
Notes can also be used to record and quickly recall counseling interviews and psychotherapy sessions summaries.

Eventually, iGenogram produces beautiful single or multi-page PDF diagrams and reports (genogram + chronological list of events) that you can archive, print or export by email.
The produced genogram can be copied and pasted in other documents in many word processors iPad Apps.
If necessary, you can also send the whole editable genogram document by email to modify it on another iPad or to save a version of your work.

No need to read long and complicated instructions manuals, download iGenogram on your iPad and start immediately using it. On the upper portion of the screen, an exclusive Assistant feature will always give you contextual instructions on what you can do and how to do it.
Almost all graphical editing (i.e. placing new individual and relationship symbols) can be done very quickly by dragging & dropping icons but, if you feel uncomfortable with that gesture, you can always follow an easier (even if less optimized) procedure made only of simple touches. Of course always with the Assistant support.
To organize and re-organize the diagram in case of updates, you just need to move the Individual symbols as all relationships (family, emotional, child-parents ties and even the households delimited areas) are automatically re-routed by iGenogram.

If for whatever reason you need support or would like to suggest enhancements, in addition to the standard email medium at the support URL, you can use an in-app integrated users support and feedback feature and, if you are worried about your privacy, you can do it without revealing your email address and name.

We love hearing from you, since its birth in 2012, iGenogram continuously improves by integrating most requested features and feedbacks.

Leverage the power of your iPad to save time, produce professional documentation and archive efficaciously your work results. Download and start using iGenogram now.