Artwork that will leave an impression.
Impressionism HD
by Evolution Games LLP
Gallery by Genre and by Name.
You can see the paintings - in thumbs and list.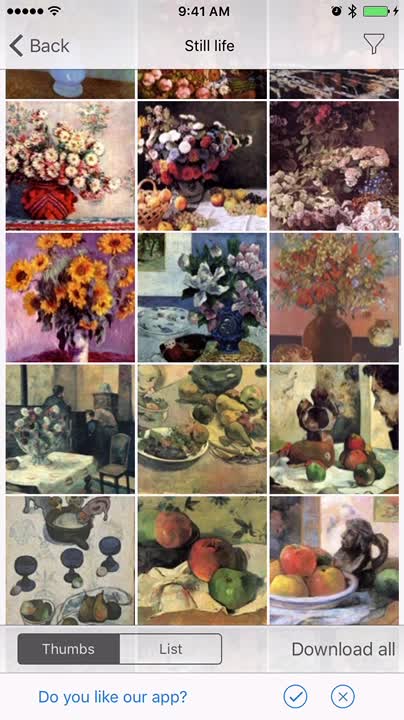 You can download the paintings in HD version.
Vincent's Chair with His Pipe.
You can listen to music too.
What is it about?
●●● 50% OFF SALE until Oct 18! 
For those who...
Connoisseurs of art will love this reference app.
Not for those who...
If you're looking for an educational art gallery app, this isn't it. It's merely meant to display important works of art.
Why we love it
If your fond of 19th-century art, Impressionism HD is the app for you. It's absolutely loaded with beautiful content that can be displayed on your TV. How's that for a view?
App Store Description
●●● 50% OFF SALE until Oct 18! 

"This app is a jewel among apps galleries." - App Dictions
"Great app is for comparing and analysing pictures." - iPads in the Classroom

App gives you a unique possibility to always have access to the best works of the Impressionist artists as well as to their biographies.

Here you will find the excellent paintings by the most world-famous impressionist and postimpressionists, including Van Gogh, Gauguin, Renoir, Monet, and many other prominent painters.

Impressionism emerged in the 19th century and made a revolution in the minds of the artists and the audience. Impressionist painting characteristics - emphasis on accurate depiction of light and movement as an important component of moments.

Get masterpiece of world art for yourself - in App are available function for download and get email HD version of any picture.

CUSTOMERS REVIEWS
Great way to spend time looking at art instead of gaming. - Goldenbark

I'm not an art expert but I love great art and this is a great app! - sgathje

KEY FEATURES
- 930 paintings of more than 16 masters of painting
- Separation of paintings by genres and authors
- Access to the HD version of works, Download Paintings to Photo Album

- Email paintings to your friends
- Publication of paintings on Facebook
- Convenient search for paintings

- Adding paintings to My favorites
- Custom filter of paintings
- Slideshow Mode

- Download paintings for the offline viewing
- Zoom of Paintings

Enjoy your viewing!

Follow us on Twitter for app sales & updates:
http://twitter.com/evo_apps