Explore the animal kingdom.
Kids Puzzle Animal Game for Kids Apps for Toddlers
by Eggroll Games LLC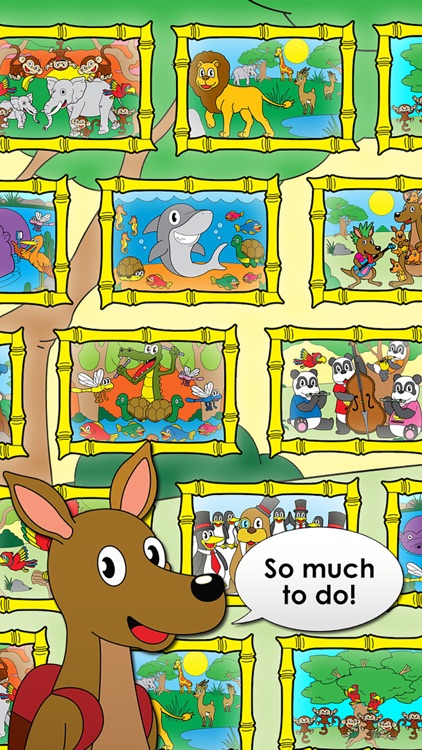 $2.99

in the App Store
Your child gets to hang out with Joey the kangaroo and all of his animal friends in this puzzle game.
Puzzle-game. After choosing a scene, cork board cutouts will begin to appear. Your child must drag and drop the pieces into place to fill each cutout.
Animated puzzle. Once complete, the scene will become animated and your children can tap on different items and characters to see what happens.
Fun and silly characters.
What is it about?
Explore the animal kingdom with Joey the Kangaroo through the shark aquarium, across the plains of Africa, and deep into Jazz Panda's musical jungle as you complete magical puzzles and explore animated landscapes!
For those who...
It's designed for toddlers.
Not for those who...
If your child doesn't fall within the one through three age range, the puzzles will likely be far too easy for them to complete.
Why we love it
If you want to work on your toddler's motor skills, download Animal Puzzles today. There's no wrong way to play, and the positive feedback will keep them coming back for more.
App Store Description
Explore the animal kingdom with Joey the Kangaroo through the shark aquarium, across the plains of Africa, and deep into Jazz Panda's musical jungle as you complete magical puzzles and explore animated landscapes!

You'll meet lots of new friends like penguins, lions, hippos, giraffes and elephants in aquariums, forests, swamps, jungles and even the north pole!

• Play the drums with Alex the alligator!
• Tickle the great tree and see what jumps out!
• Help Henrietta the hippo brush her teeth!
• Dive into the aquarium with Sully the shark!
• Party with Wally the walrus and the penguins!

PARENTS AND TEACHERS
This app challenges kids to solve problems, recognize shapes, memorize pieces, and set small goals as they develop hand-eye coordination and fine motor skills.

We provide parental options and lots of positive encouragement to ensure your child has a safe space to play and learn. Baby Play Time mode lets children of any skill level explore and discover real animal sounds and fun animations.

"My kids love animal themes and they just fell in love with this game. The game looks like a kid-friendly cartoon. The style and the animation is fantastic." - User Review

"My two yr old loves this. First puzzler he can do. This app will be a staple in my sons learning games." - User Review

"Mission accomplished! My little one always smiles and enjoys while playing it... Thank you!" - User Review

"Awesome kids app - There's a great variety in puzzles and animals, and there are a lot of cute sounds and animations that become available when a puzzle is completed. My kids had a great time playing with this."

ABOUT
"As parents and teachers, we believe in friction-free learning for kids of all ages. We strive to build fun experiences with eye-popping visuals, professional narration, catchy music, and lots of positive encouragement.

Thank you for supporting us and making our vision come to life.

Have fun!"

- Blake, Amanda, Mike & Urszula, Eggroll Games