Linkoidz is an out of this world new arcade puzzle game
Linkoidz
by Retro Dreamer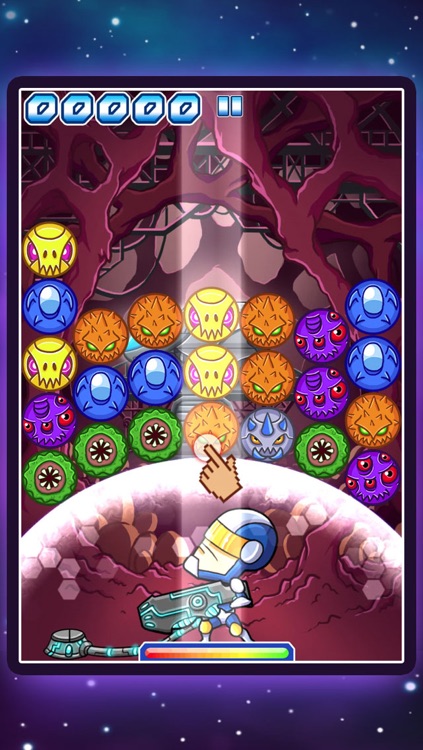 What is it about?
Linkoidz is an out of this world new arcade puzzle game. Crash landed on an alien planet, you must fight off the Linkoidz onslaught with only your gravity gun and trusty energy shield.
For those who...
It's for those who enjoy match-three games but want something more.
Not for those who...
If you prefer slower paced puzzle games, skip Linkoidz.
Why we love it
If you're tired of the same old match-three formula, let Linkoidz spice things up a bit. It's familiar yet unique.
App Store Description
Linkoidz is an out of this world new arcade puzzle game. Crash landed on an alien planet, you must fight off the Linkoidz onslaught with only your gravity gun and trusty energy shield.

Touch Arcade: "Linkoidz stands out from the pack by being designed to feel natural to the touch screen interface and offering some frantic matching fun."

SlideToPlay: "All the elements of Linkoidz work together perfectly: The eye-catching graphics and animation, the exciting soundtrack; the novel control scheme, and the increasingly frantic challenge." 4/4

AppAdvice: "Linkoidz will have you hooked immediately with such an easy control mechanic, and such fast paced challenging gameplay." 4.5/5

AppAddict: "It's silky smooth controls and downright addictive gameplay set the new gold standard for arcade match 3 games on the platform." 4.5/5

148Apps: "There are a lot of match-3 games on the App Store, but Retro Dreamer has something special here." 4.5/5

AppSpy: "Linkoidz is a rare gem that gets better over time and if you're after a new arcade-puzzler this is definitely a no-brainer purchase." 5/5

Are your fingers up to this addicting new challenge?

Linkoidz has 3 different Arcade modes, as well as 30 training and challenge missions. The training missions will teach you the basics, then you'll be on your own against all the Linkoidz and their queens if you want to escape.

The Endless arcade mode offers non stop adrenaline fuelled action, but there's also the Sprint mode for a quick game, and Zen mode if you prefer a more relaxing game. All of the arcade modes can be played in a variety of different difficulty settings.

Also features:-

- Game Center Integration
- Universal iPad support
- Retina display support
- Blazingly fast arcade action
- Awesome hand crafted artwork
- Exciting power ups and fiendish boss battles

Linkoidz is the latest game from the makers of Sneezies. Watch the video and find our other games on our website, http://retrodreamer.com Or join us on Facebook at http://facebook.com/retrodreamer