Solve puzzles using beautifully colored, unbelievably realistic liquid
LiquidSketch
by Tobias Neukom
watch trailer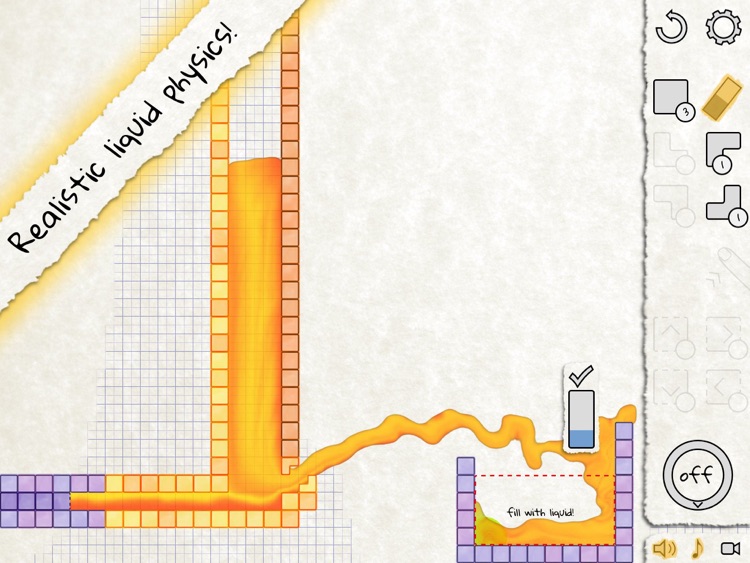 What is it about?
Solve puzzles using beautifully colored, unbelievably realistic liquid! Rotate your device to pour, use your fingers to splash around or build bridges and pipes with blocks. Engage in 90 challenges testing your logic over 6 stages covering different aspects of liquid mechanics or let your imagination run wild in the sandbox mode.
For those who...
It's for those who enjoy getting interactive with their games.
Not for those who...
If you don't like moving your iPad around, don't download LiquidSketch. It requires multiple methods of interaction that will be too much for you.
Why we love it
If you're looking for a totally unique game with a fantastic soundtrack, you've found it in LiquidSketch. The sloshy liquid is probably more fun to play with than it has any right to be.
App Store Description
Solve puzzles using beautifully colored, unbelievably realistic liquid! Rotate your device to pour, use your fingers to splash around or build bridges and pipes with blocks. Engage in 90 challenges testing your logic over 6 stages covering different aspects of liquid mechanics or let your imagination run wild in the sandbox mode.

Features: 

- Incredibly realistic real-time liquid simulation.

- Beautiful colors: liquid and paint mix realistically and generate stunning visuals.

- Highly responsive gyroscopic controls and cutting edge liquid physics means the water flows naturally, as if it were actually inside your device!

- 90 challenging puzzles with 6 stages of liquid mechanics, from easy and intuitive to complex and mind bending.

- Build anything your mind can come up with in the sandbox mode using blocks, pumps, wedges and paint. Built-in video capture lets you record your masterpiece and share it on YouTube effortlessly.

- Awesome aquatic soundtrack from composer James Primate for each stage.

- Support for Retina display