Start the journey of a lifetime on a high-speed river ride into the world of eternal summer
Little Boat River Rush
by Happymagenta UAB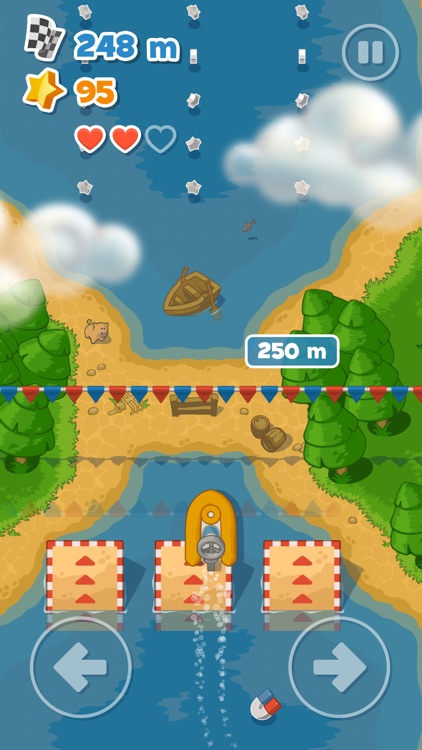 FREE

in the App Store
Go on a high speed river ride and dodge obstacles for as long as possible in Little Boat River Rush.
What is it about?
Start the journey of a lifetime on a high-speed river ride into the world of eternal summer. Feel the power of water, hop into your boat and get ready for a breathtaking adventure. Learn cool stunts, flush out birds, maneuver through obstacles and merge with nature. Join the championship, set new records and taste the victory.
For those who...
It's the ideal pick-up-and-play arcade game.
Not for those who...
If you prefer your games more casual, you'll want to skip this one. It's a bit of a challenge.
Why we love it
If you enjoy competing for high scores, give Little Boat River Rush a try. The difficulty ramps up relatively quickly, so you won't have to waste much time on each restart reaching your previous point.
Little Boat River Rush is FREE but there are more add-ons
$1.99

Catamaran

$1.99

2xStars

$3.99

Big pack of stars

$0.99

Small pack of stars

$9.99

Large pack of stars

$19.99

Huge pack of stars

$2.99

Medium pack of stars

$4.99

25,000 Stars
App Store Description
Start the journey of a lifetime on a high-speed river ride into the world of eternal summer. Feel the power of water, hop into your boat and get ready for a breathtaking adventure. Learn cool stunts, flush out birds, maneuver through obstacles and merge with nature. Join the championship, set new records and taste the victory.

FEATURES

- More than 100 missions
- Over 300 maps in a randomly generated seamless world
- Warm and sunny seaside atmosphere
- Variety of power-ups and upgrades
- iCade and Bladepad controllers support

○○○

More from Happymagenta:
· Spyglass - outdoor GPS with augmented reality
· Scany - WiFi scanner and network utility