HALLOWEEN 2015 SPECIAL DISCOUNT
Little Dead Riding Hood
by Itbook Editorial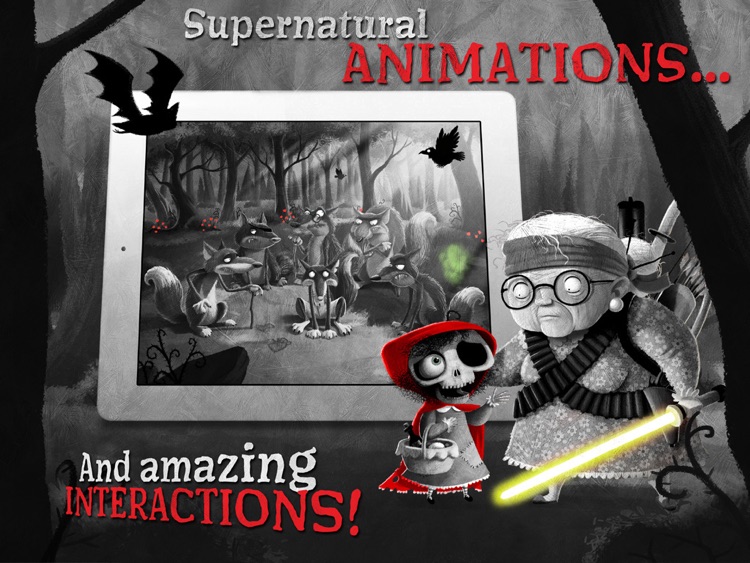 What is it about?
HALLOWEEN 2015 SPECIAL DISCOUNT!!!
For those who...
It's ideal for children who enjoy tales with a darker tone. Think The Nightmare Before Christmas.
Not for those who...
Little Dead Riding Hood has a darker tone than most children's storybook apps we feature in AppsGoneFree.
Why we love it
If your child is fond of tall tales, this interactive storybook app is sure to please. It's perfectly crafted, and offers a new perspective on a classic.
App Store Description
HALLOWEEN 2015 SPECIAL DISCOUNT!!!

Many long years have gone by
Since Little Red Riding Hood fell ill and died
That pretty little girl wonder
Who now lives in a box 6ft under
And who terrifies all those who see her face
As they scream and run away in haste.

Her face is worse for wear and all but gone.
Because now there's no flesh on it, just bone.
But none of that matters a jot,
Nor that it's just the one eye she's got
For when she's all dressed up in red,
You know she's back, but now her name is Little Dead.

- Available in English and Spanish.
- Narrated by Francisco Colmenero and Mike Martindale.
- Illustrated by Emi-Ordás.
- Screenplay by Luis Murillo.
-Composer & Music Production: Javier Labaka

*Supernatural animations and interactions that will kill you.*