Match Tiles to the Beat in Lumines Puzzle & Music
LUMINES PUZZLE & MUSIC
by mobcast inc.
watch trailer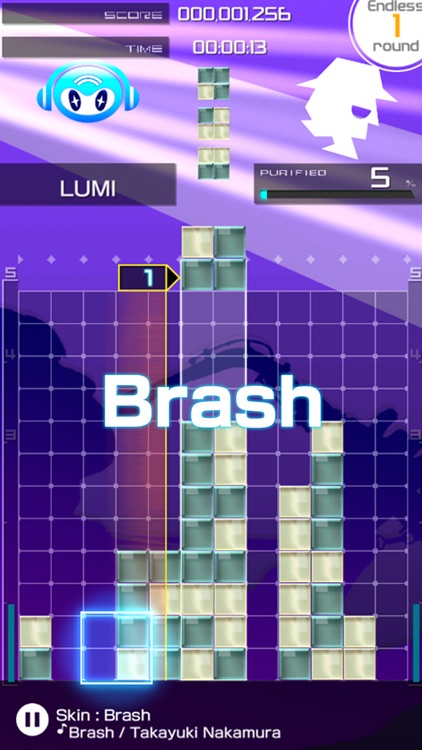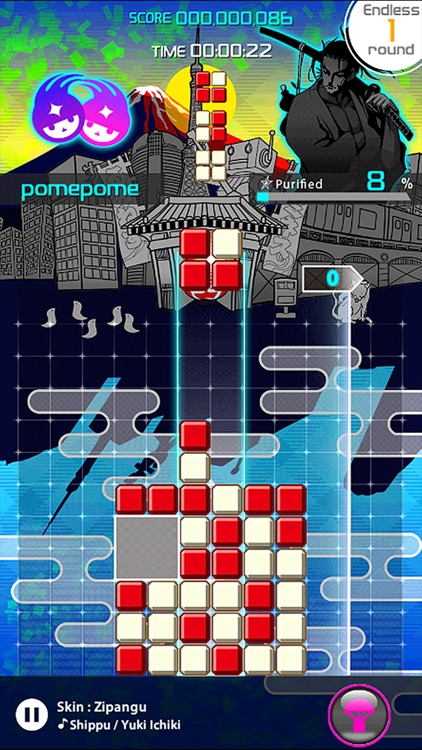 $2.99

in the App Store
Lumines Puzzle & Music is a mobile musical puzzle game that is the latest installment of the Lumines franchise.
Flashy new graphics. Lumines Puzzle & Music is back on mobile with brand new music and graphics. Enjoy upbeat and quirky dance tunes as you match blocks and clear out tiles. The key is to play to the beat.
Pick your tune. Lumines Puzzle & Music has several different albums, including Classic, that you can pick from. Each album has different songs and skins for the game board, and you can even play single skins if you have unlocked them. There are three game modes too, so you can play at your own pace to improve.
Enjoy the classics. Additionally, there is a Classic album in case you want a bit of nostalgia. Puzzle & Music has optimized touch controls so that everything is easy and you'll get wrapped up in the beat.
What is it about?
Lumines Puzzle & Music ($2.99) by mobcast inc. is the new mobile version of the classic PSP title, and it's been rebuilt from the ground up. If you were a fan of the original Lumines (https://en.wikipedia.org/wiki/Lumines) games, or just enjoy Tetris (https://en.wikipedia.org/wiki/Tetris)-like puzzle games, then this new Lumines title is a perfect fit for you.
For those who...
Are fans of the Lumines franchise
Enjoy musical games
Like puzzles
Want a challenge
Not for those who...
Don't like puzzles
Don't like music games
Aren't fans of dance music
Don't like the Lumines games
Why we love it
Lumines Puzzle & Music is the latest mobile Lumines game after 10 years. The game has awesome visuals, fantastic dance tunes, and simple, intuitive controls that are optimized for touch screens. The game itself is challenging and will have you hooked after the first go.
LUMINES PUZZLE & MUSIC is $2.99 but there are more add-ons
$4.99

Rez PACK

$4.99

SEKAI NO OWARI PACK

$0.99

a piece of sine wave SKIN

$1.99

New World SKIN

$0.99

STRANGERS SKIN

$0.99

Brash SKIN

$0.99

Lie in Rhodes SKIN

$0.99

Rez TRIAL SKIN

$0.99

SEKAI NO OWARI TRIAL SKIN

$3.99

Rez PACK
App Store Description
Lumines is back! A mobile rebuild of the classic PSP title, LUMINES PUZZLE & MUSIC is an action packed puzzle game synchronized to a musical beat, featuring newly-produced tracks and classics such as "Shinin'" by Mondo Grosso. Players swipe and tap their screen in portrait mode to properly align their Lumines blocks to clear blocks of four matching colors in rhythm to the beat.
In addition, time attack mode was added at v2.0.0!!
Now you can try to beat your records in short 90-second session.
The score is recorded on leader board so play for self best record!

Lumines also includes downloadable tracks and game boards from Rez, the classic rail-shooter music game also developed by Lumines series creator Tetsuya Mizuguchi, and Japanese game "18(eighteen)" collaboration.

*LUMINES PUZZLE & MUSIC matches visuals to the beat – we highly recommend playing with headphones or earbuds!

Introduction
LUMINES PUZZLE & MUSIC
An award-winning series of action puzzle games with more than 2.5 million copies sold for game consoles, distributed in 76 countries worldwide and over 10 million installs. Developed in collaboration with series founder Tetsuya Mizuguchi, LUMINES PUZZLE & MUSIC is set to challenge and amaze players!

Fusion of Music & Gaming
LUMINES PUZZLE & MUSIC is an authentic action puzzle game developed as a mix of dance music and puzzle games, designed to be the perfect fusion of music and gameplay. Experience the thrill of racking up high-scores with combo swipes while playing to the tune of catchy beats of classic songs such as "Shinin'" by Mondo Grosso and all new musical tracks.

Synchronization of Music & Visuals
Enticing visual design together with high-quality sounds and music create a truly immersive gaming experience. Players create a harmony of music and visual art each time they play.

Challenges & Achievements
Game modes such as Challenge, Time Attack and Endless Score Attack offer multiple ways to play. Earn achievements with slick combos and high scores to show off your skills and unlock new game boards and music.

Share on Social Media
Nothing feels quite like getting that perfect swipe of your Lumines blocks and clearing the game board for the high score! Share moments like these and more with a new feature in LUMINES PUZZLE & MUSIC allowing players to share gameplay moments on their preferred social network.

If you're a fan of mind-bending puzzles, toe-tapping music games, the original Lumines series, or looking for an immersive mobile game you won't be able to put down, LUMINES PUZZLE & MUSIC is the game for you!

Service Provider
mobcast Inc.

Game Title
LUMINES PUZZLE & MUSIC

Supported Operating Systems
iOS8.0 and beyond

Supported devices
iPhone 5s, iPad Air and beyond
*We do not guarantee successful operation on other devices, including iPod devices

Supervisor
Tetsuya Mizuguchi

Official site
https://lumines.game/en/

Follow us on Twitter
https://twitter.com/luminesgame

Like us on Facebook
https://www.facebook.com/LuminesGame

Contact customer support
[email protected]
*If you have a spam filter, please add "@mobcasthelp.zendesk.com" to your whitelist so that you can receive our mail.

LUMINES PUZZLE & MUSIC was created using CRIWARE™ by CRI Middleware Co., Ltd.

©mobcast ©Resonair ©BANDAI ©BNEI