Snapp Mashreq Mobile Banking application allows you to check your account balances, pay utility bills, transfer funds and place account servicing requests
Mashreq UAE
by Mashreq Bank PSC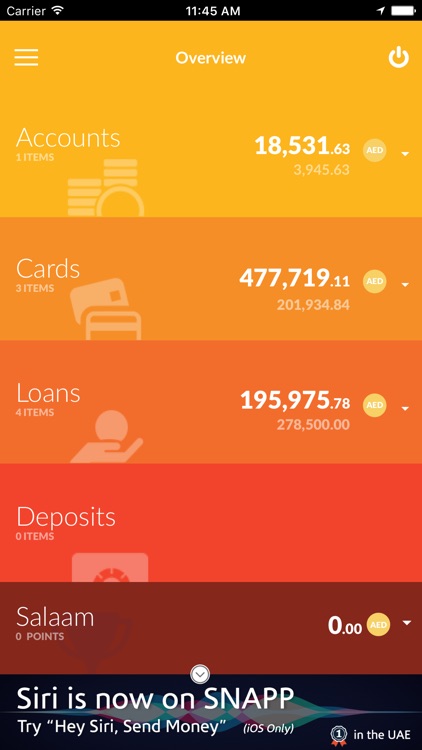 What is it about?
Snapp Mashreq Mobile Banking application allows you to check your account balances, pay utility bills, transfer funds and place account servicing requests. Free, simple and highly secure, this service ensures your banking needs are taken care of from any location you might be at. This service is available to all Mashreq customers* holding an active account or Credit Card relationship.
Mashreq UAE supports Siri commands
Make
a
Mashreq
UAE
payment
of
$32.76
for
mom's
gift.
Make a Mashreq UAE payment of $32.76 for mom's gift.
App Store Description
Snapp Mashreq Mobile Banking application allows you to check your account balances, pay utility bills, transfer funds and place account servicing requests. Free, simple and highly secure, this service ensures your banking needs are taken care of from any location you might be at. This service is available to all Mashreq customers* holding an active account or Credit Card relationship.

FEATURES include the following:

Supports Touch ID authentication :

Account Inquiry
- Current & Savings
- Term Deposits
- Credit Cards
- Loans
- Mashreqsecurities
- My Money Manager ( PFM)
-Mashreq offers
Money Transfers
- Between own accounts
- To another Mashreq customer** ( Live exchange rates)
- Telex Transfer**
- Mobile to Mobie ( P2P)
- Cardless Cash
- Mashreq Flash Transfer ( Instant money transfer to India)
Payments
- Mashreq Credit Card
- Phone (Etisalat & du)
- Utility (DEWA, SEWA & ADDC, ,ADDC)
- RTA (Salik Recharges)
- International Mobile Top up
- Naqoodi Wallet top up
Account Servicing
- eStatement Subscription
- Request statement
- Activate Card
- Block Card
- Request Cheque Book
Other Services
- Foreign Exchange Rates
- Forex Alerts

*This Mobile Banking application is available to Mashreq customers in United Arab Emirates only.
**Available to customers with Online Banking access only. Must have a beneficiary set up previously through Online Banking to use these features. Transfer Challenge Code is required which can be applied through Online Banking

MOBILE BANKING SECURITY
- For security purposes only during activation process we will be sending your iPhone UDID (one time process)
- Secure registration process through online banking and call center
- Secure sign on with password
- Multiple level of security checks for money transfers