This App will let you fly your DJI™ Drone like never before
Maven - For DJI Drones
by Michele Vagnetti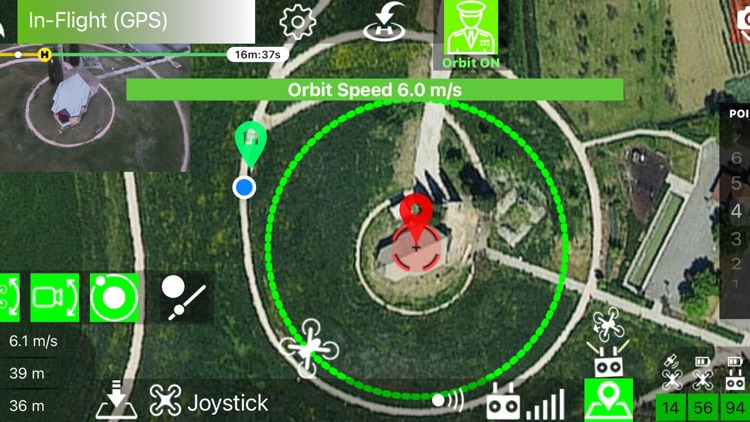 What is it about?
This App will let you fly your DJI™ Drone like never before!
App Store Description
This App will let you fly your DJI™ Drone like never before!
it's includes all the features you've always wanted
-Waypoint Mission
-GPS Follow/Track ME
-VR with Head Tracking
-Polygonal Geofence
-Headless Mode (Course Lock, Home Lock)
-Cable Cam
-Automatic Orbit
and much more

The app is compatible and optimised for:
Mavic Air
Mavic Air 2
Mavic Mini
Mavic Mini 2
Mavic 2 Enterprise Dual
Mavic 2 Enterprise
Mavic 2 Pro
Mavic 2 Zoom
Mavic Pro Alpine
Mavic Pro Platinum
Mavic Pro
Spark


Autonomous Waypoint Mission
- complete solution for autonomous waypoint navigation
- easy and intuitive user interface to design the route
- POI functionality
- Corner Radius
- Above the Ground (altitude option)
- adjustable progressive and smooth rotation of the drone and the gimbal
- autonomous or semi-autonomous flight
- possibility of combining VR functionality with the waypoint mission
- convenient management to save and browse the missions
- up to 99 waypoints
- waypoint Actions, including auxiliary light actions
- share mission
- import CSV Litchi mission
- define mission "by Flight"
- search Location

Follow ME!
a complete GPS follow functionality that include
-Track Me (follow from any direction)
-Altitude follow
-Orbit while follow
-automatic home point update
-live follow parameter update

Virtual Polygonal Geofence (you will not find this function in any other app)
-Virtual Polygonal Geofence (VPG for short) are user-defined geographic areas in which the drone can fly.
-They are intended as an alternative to the standard circular distance limit managed by the drone firmware, which is not very useful in most scenarios
-Activating a VPG the application will prevent the drone from flying outside its perimeter, progressively slowing down the drone near the barriers until it stops
Each VPG can also be associated with:
-a minimum and maximum height
-a maximum speed

Virtual Copilot
a totally new feature to the app, especially useful for drones without native Point of Interest functionality (e.g. Mavic Mini)
choose a point on the map, then ask the copilot to control the Yaw Rotation and the camera to look at that point while you are free to manually fly the drone
the copilot has also more advanced skills like "orbit" ,"Follow / Track ME", "cable cam" , check the manual
the copilot will open the door to great shots even to inexperienced pilots!

Headless
the app support two headless mode:
-Course Lock
-Home Lock


VR Function
You can use this app with basically all VR headset on the market! the view is fully customisable to fit all needs, you can set position, dimension and eye-witdh

Head-tracking
Move the gimbal with your head! you can move the gimbal
-up and down (all supported drones)
-left and right (Mavic 2 series and Mavic Air 2)

Gimbal Modes: Follow / FPV

Enjoy the special animated On screen Display in VR mode! it will provide you all the informations that you need!

If you need to look around while wearing the VR headset (goggles) you can switch from Drone Point of View to Your Point of View (using the iPhone camera) by pressing a button on the remote controller.

AR Localizer
You have three Augmented Reality Localizer that will help you orient yourself on the Drone video feed.
The green locator will always show the Home position, the red one will show you the Position and Distance of a Point of Interest that you can choose on Map. The blue one show the GPS position of the piloting device
GPS Error, compass error or barometer sensor error could affect the accuracy of the localizer but will always be a great help to find your destination.
Localizers are available in normal mode, full screen and "VR" Mode

Complete access to all camera settings

- FCC mode friendly
(the app does not automatically revert to "CE" mode the drones that has been set to "FCC")

Flight Mode:
Atti/GPS Mode, Tripod Mode & Sport Mode

Sync flight logs to AirData UAV
Disclaimer:
AppAdvice does not own this application and only provides images and links contained in the iTunes Search API, to help our users find the best apps to download. If you are the developer of this app and would like your information removed, please send a request to
takedown@appadvice.com
and your information will be removed.