Begin in Thailand in 1947 where you will find the hidden objects in this mysterious adventure.
Melissa K. and the Heart of Gold HD
by SDP Games SAS
watch trailer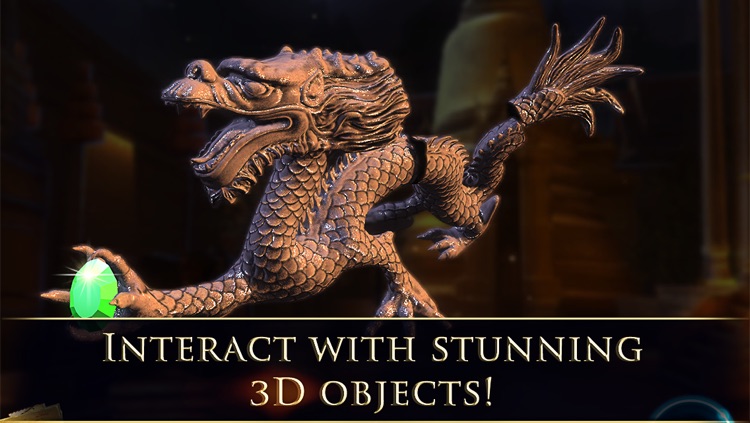 FREE

in the App Store
In Melissa K. and the Heart of Gold you will look for clues, search for pieces of items for your inventory, and explore scenes in a first-person adventure. There are over 30 unique puzzles, 30 interesting locations, and three difficulty levels. The game also offers Game Center support with achievements and leaderboards.
Walk to locations. You will discover different areas with the look and feel as if you were moving yourself. Just move through the scenes and slide your finger to explore each area looking for clues.
Hidden pieces. In this game, you will look for the pieces displayed at the bottom of the screen. After finding each piece, they will be assembled and added to your inventory as a tool to use.
Mini scenes. Some locations have smaller scenes where you may need to assemble or fix an item to obtain another clue or tool.
What is it about?
Travel back in time and to another land in Melissa K. and the Heart of Gold where the game begins in Thailand, 1947. Explore myths and legends as you discover twists and turns in this intriguing adventure. Manipulate objects you find and uncover the mysteries put before you in a distinctive game of hidden objects.
For those who...
Enjoy hidden objects challenges
Like story-based games
Not for those who...
Enjoy racing or shooting challenges
Like intense action games
Why we love it
If you enjoy immersing yourself in an engaging story with challenging puzzles, then you will like Melissa K. and the Heart of Gold. Explore, search, and be prepared to unfold a world of mystery.
Melissa K is FREE but there are more add-ons
$4.99

Full Game Unlock + Collector's Edition *** SPECIAL OFFER: -50% ***

$3.99

Full Game Unlock *** SPECIAL OFFER: -40% *** LIMITED TIME ONLY ***

$1.99

Collector's Edition Upgrade *** SPECIAL OFFER: -60% ***
App Store Description
*** SPECIAL OFFER: -40% *** LIMITED TIME ONLY ***

***WARNING: Due to heavy graphics requirements, "Melisa K." is NOT compatible with the iPhone 4 or iPod 4th Generation***

*** Featured by Apple in many countries, game of the Week in China #10 chart topper ! ***

"The game is one of the classier Casual Adventure/Hidden Object games I've played in recent times" - 148Apps.com

"The graphics are superb and are amplified on devices with a Retina display" - Alphadigits.com

"It's easily one of the superior entries to the casual adventuring genre." - 148apps.com

Welcome to a beautiful Adventure set in a unique interactive 3D world full of mysterious puzzles and Hidden Objects. Prepare for an unforgettable experience!

The story unfolds in 1947 Thailand, in a world filled with characters, myths and legends from ancient Buddhist tales. When Melissa is invited by the Queen of England in person, she has no idea that her life is about to take a dramatic turn and a simple mission will lead her to question her very existence.

SDP Games proudly unveils its most ambitious title to date, after the critically-acclaimed Save the Furries featured by Apple!

Thanks to our brand new "Immersion Tech." we're able to combine cutting-edge 3D with beautiful hand-painted graphics. Live an adventure like no other! Explore beautiful environments at the touch of a finger!

TRY IT FOR FREE, THEN UNLOCK THE FULL ADVENTURE FROM WITHIN THE GAME!

---- FEATURES ----

● Use simple, natural gestures to navigate, interact with characters, use items with ease!
● Manipulate exquisite 3D inventory objects at the touch of a finger!
● More than 30 exclusive puzzles, replay them to beat your best scores!
● Over 30 detailed locations to search for Hidden Objects
● Over six hours of immersive game play, seven with the Collector's Edition
● Three difficulty levels: Novice, Adventurer or Expert
● This game supports Game Center achievements, leaderboards and Retina display

---- CURIOUS? ----

Visit http://www.melissak-game.com to learn more
Become a fan on Facebook: http://on.fb.me/1rFAw7P
Follow us on Twitter: https://twitter.com/SDPGames
See our Pinterest page: http://www.pinterest.com/sdpgames
Explore our Youtube channel: https://www.youtube.com/sdpgames
Subscribe to our Newsletter: http://www.sdpgames.com/subscribe.htm

SDP Games is a video games developer based in Lyon, France. Our mission is simple: create high-quality, jaw-droppingly immersive games for tablets and smartphones. Visit our official website for more information:
http://www.sdpgames.com