The meme app that uses Machine Learning to customize your feed
Memeois
by Anushk Mittal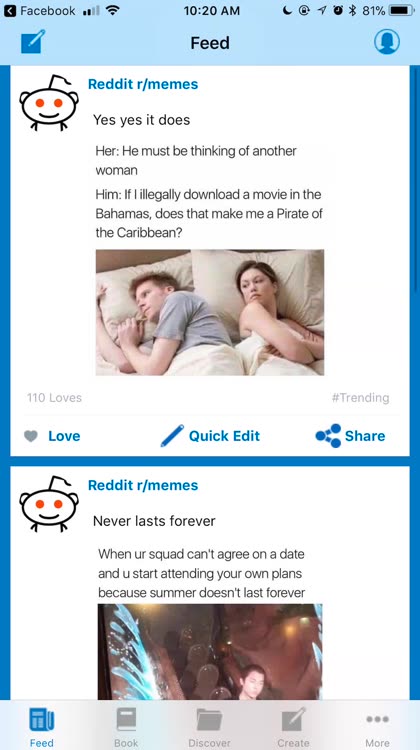 FREE

in the App Store
Some people have discerning taste in memes, and only prefer certain ones. Memois brings you all kinds of funny memes, but also uses Machine Learning to tailor your feed to you.
Get inspiration from the feed. You'll find plenty of memes in the feed, even if you don't have any friends on Memois yet. The meme subreddit from Reddit is there by default.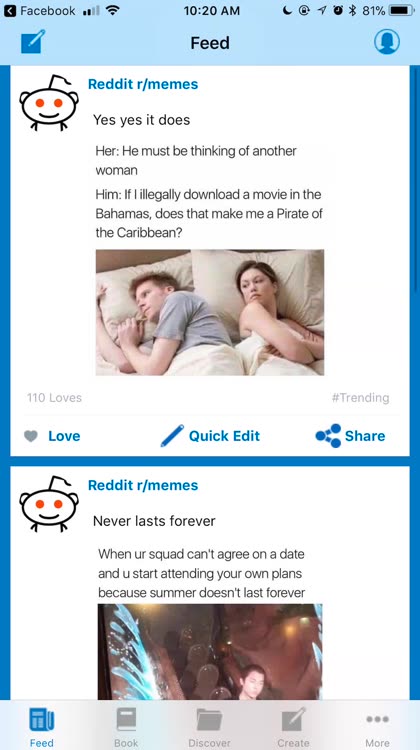 Discover popular memes. Browsing through the Discover tab is another great wait to find meme inspiration
Create your own meme. Once you're ready and have your idea, it's time to create your own meme. Maybe it'll go viral.
What is it about?
Memois was created by a 17-year-old student with a passion for solving problems by learning new things. Frustrated by the hatred, politics, and stress on social media, this Georgia Tech student and WWDC 2016 and 2017 Scholar set out to built an app that makes it easy and quick to make memes, share them with friends, and find new ones relevant to the user.
Why we love it
No meme app would be complete without a way to make your own, and Memois has that. You can create a fully custom meme, if you want. Use a photograph from your Photo Library, add your own text, and then give it a caption. Once you're done, you can categorize your meme, save it to your Book, and then share it with others through Messages, email, Facebook, Twitter, and other choices. If you don't have your own photo you want to use for your meme, Memois has you covered. All of the most popular meme images are available, so you can create your own flavor of Boromir's "one does not simply" meme, Picard's facepalm, or the "nailed it" toddler. There are plenty more to choose from, of course. Again, you choose your image, add your text, and then categorize your meme. Once that's done, you can save it to your Meme Book and share it.
Memeois has stickers
like these
and more
Memeois supports Siri commands
Show
me
the
Memeois
pictures
from
my
Utah
trip
last
year
Show me the Memeois pictures from my Utah trip last year
App Store Description
The first app built solely for browsing, discovering, sharing and creating memes (The Daily Dot), Memeois is a completely FREE all meme app with NO ADS. From browsing Feeds with memes curated just for you using advanced AI to creating new memes or simply modifying the existing memes, Memeois offers you a complete package.

Browse. Create. Edit. Share. Some of the key features are:

● iMessage Stickers Pack included with 100+ memes, rage faces and GIFs for involving meme conversations, providing a new way to communicate & share feelings through memes on iMessages

● Native Apple Watch support for browsing memes even without your phone

● An ENDLESS FEED JUST FOR YOU with memes that you'd love. We use advanced Machine Learning to match your interest based on the trends and your social network.

● CREATE new viral with just a few taps. Memeois offers in-app support to create quick memes from template or design new ones through your own meme images.

● Memes go viral with changing content. Memeois offers a QUICK EDIT feature to easily modify memes as you browse them and seamlessly share it with your friends & the world.

● Maintain YOUR BOOK of memes to share your dank humor with the world. Upload new memes or share existing memes to share it with everyone.

● BROWSE & discover new memes from multiple categories. Soon supporting search to find memes you'd love to see again.

● SHARE-ing is easier than ever with memeois. Share memes as you browse with any social network natively without any branding with pre-filled meme caption text and the meme image.

The list goes endless. TL;DR Memeois offers all features that you'd ever want to fill your meme appetite. Besides being free, we also offer 24x7 Support along with Help Desk powered by ZenDesk.

Memeois offers exclusive iOS technology support with:

- 3D TOUCH support for Quick Actions, allowing you to browse your Feed, Create Memes, or Discover at a single touch.

- SHARE EXTENSION for posting memes by simply sharing an image from the Photos app and other supported applications.

- TODAY WIDGET with top recommended memes for you always available on a glance at your iPhone.

- APPLE WATCH APP support which offers you compatible memes even when you don't have your phone handy.

- SHARE through AIRDROP or any social media app installed on your iOS device.

Developed by Anushk Mittal, a 17 year old developer & entrepreneur. I have received WWDC Scholarship for the last two years and the app has been built with extensive knowledge from Apple Engineers and support through Facebook's accelerator program FbStart. You can always tweet me @AnushkMittal for support.

*FAQ*

Q// Free with NO Ads! What's the catch?
There's no catch! Memeois has been seed funded by founder, Anushk and it's our commitment to remain 100% Free. We believe that ads are irritating and often interrupt a great product's experience. We aren't really earning anything from Memeois and if we do plan to, in the future, I promise it won't be paid or forced ads.

Q// Why Memeois over other social media platforms?
1) No unwanted Notifications
2) Easy Sharing Mechanism
3) Just view the memes that you love without extra stuff
4) Integrated Meme creation tools
5) No Ads
6) 24x7 Support

Q// How can I contribute?
We just want you to share the app with your friends and have a good experience.Feel free to drop us a message at [email protected] to get connected or voice your opinion.