*** If the need for fine motor skills exist, use of the 3-D, real cube blocks will best suit development of fine motor skills - Carol Leynse Harpold, OT specialist ***

Merry Cubes HD - 3d cube fruit puzzles to develop fine motor skills
by Kindermatica Ltd.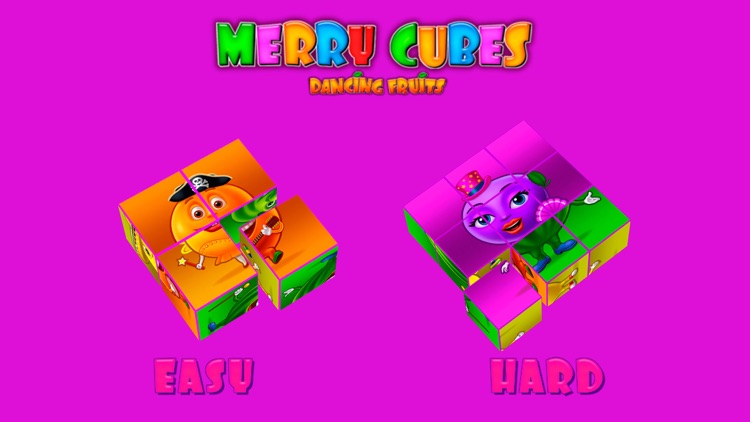 Develop fine motor skills. All children have to do is swipe across the cubes to reveal different sides and rotate two fingers to spin their faces.
Learn and play. The game includes six characters, two difficulty levels, and upbeat background music.
What is it about?
*** If the need for fine motor skills exist, use of the 3-D, real cube blocks will best suit development of fine motor skills - Carol Leynse Harpold, OT specialist ***
For those who...
It's ideal for parents with children ages two through seven.
Not for those who...
The content is limited to reconstructing fruit characters. There are two difficulty levels, but that's about it in terms of variety.
Why we love it
It's educational and it's fun. What more could a parent ask for?
App Store Description
*** If the need for fine motor skills exist, use of the 3-D, real cube blocks will best suit development of fine motor skills - Carol Leynse Harpold, OT specialist ***
*** Festive Kids' iPad Puzzle Game – Puts A Smile on Your Face! - Crazy Mike's Apps ***
**************************************************
***TOP 10 APPS FOR ROAD TRIP by Apps for Homeschooling***

*** One of Free Fast Five Apps - iMUM *****
**************************************************
Toddlers and kids from 2 to 7 will have fun with this really engaging cube matching game. Just swipe the cube and tap to rotate it and reconstruct the whole picture. Watch every matched fruit dancing as a reward and a real fruit disco as a grand prix!

Designed in coordination with preschool teachers, MERRY CUBES helps develop fine motor skills, and makes it fun for your kid.

FEATURES:
- 6 different 3d fruit to match and discover
- 2 levels of difficulty - easy (4 cubes), hard (9 cubes)
- funny animations as a reward after every other fruit is matched and surprising animation at the end of the game
- Designed for kids - no confusing menus or navigation.

.................................................................

"The app combines an educational element with bright colors and fun musical animations that serve as a reward when your little one successfully completes a game." - the iPhone Mom

"The app may help reinforce the skills of color and pattern matching. The app controls are easy to understand and require rotating on-screen blocks." - CommonSenseMedia

"The dancing fruit are just way to cute! The number one thing I liked about Merry Cubes is the fact that it is really easy for kids to navigate through. I like the fact it doesn't have any complicated menus. All in all my kids were really into the puzzle portion of it. " - Super Mommy to the Resque

KNOW WHAT'S INSIDE
As a MOMs with Apps member, we follow the "Know what's inside" best practices for kids' apps
.................................................................
Be sure to SHARE A REVIEW below.
.................................................................

Visit us: http://www.kindermatica.com
Follow us: http://twitter.com/kindermatica
Like us: http://www.facebook.com/kindermatica