A fast paced puzzle game in which you need to oversee switches to line up colored balls.
Messy Paths
by Felix Casablancas
watch trailer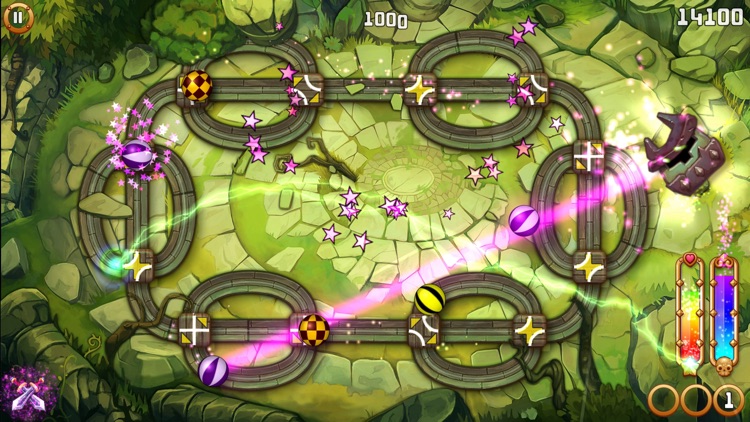 FREE

in the App Store
Messy Paths delivers a matching game within a chaos management set up. Colored balls roll along the pathways, and you need to tap on the crossroads to switch up the direction in the attempt for like colored balls to collide.
What is it about?
Welcome to the latest addictive puzzle arcade game. Put your reflexes and concentration to the test in the mad world of Messy Paths.
App Details
Last updated
October 3, 2017
Release date
September 26, 2017
App Store Description
Welcome to the latest addictive puzzle arcade game. Put your reflexes and concentration to the test in the mad world of Messy Paths.

Tap the switches at the crossroads to change the direction of the balls in order to make like-colored balls collide. Avoid collisions between balls of different colors. Defeat all 15 evil enforces of Doukan and obtain the Ring of Power in this original, addictive, and fast-paced puzzle arcade game. Colliding colored balls has never been more fun!

Messy Paths is completely free. It contains in-app purchases and rewarded ads that are totally optional.

You have been selected by The Grand Supreme Magistrate's Majesty to save the universe. But things are never as they seem. Discover the magical world of Messy Paths and part of the outer world. Defeat all 15 evil enforces of Doukan and obtain the Ring of Power.

• Free. Contains rewarded ads and in-app purchases that are completely optional.
• Unique gameplay mechanics.
• Over 200 levels. Game progression from easy to really challenging.
• 15 game environments and 15 enemies each with its own special power.
• Graphics and music by freelance artists.
• Many types of switches and other mechanics such as the teleporter.
• Balls with special powers.
• Charms with different bonuses. Choose one per level.
• Accompanied by a crazy story where you must save the world yet again.
• Achievements and high scores for Apple Game Center.
• No Wi-Fi or internet connection required to play.
• King-sized explosions and effects.
• Available in English and Spanish.

Messy Paths was developed by Nurium Games, an independent European company.

Find out more at Nurium Games:

www.twitter.com/rockefelox
www.facebook.com/nuriumgames
www.messypaths.com
www.nurium.com