If you like mashup games, then Missile Cards is definitely one to have in your collection.
Missile Cards
by Nathan Meunier
watch trailer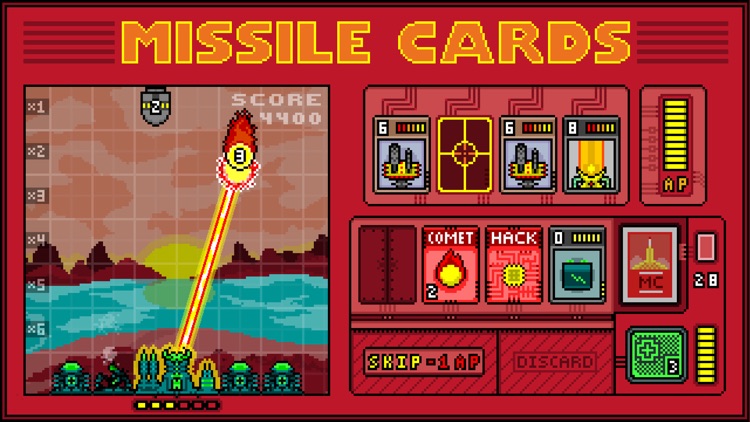 $2.99

in the App Store
Missile Command is a unique strategy card game that is unlike anything you've tried before on the App Store.
Level up. After successful missions, you will gain experience points and level up. You can spend your points to upgrade your base so that it becomes stronger, making it easier to defend.
Defend your bases. Strategically play your cards to defend your bases on various planets! Your deck is composed of hazards, weapons, and special items like batteries and debris tractors. Use your defenses to protect your base and collect debris to spend in the shop.
Build your deck. The debris that you collect can be spent to purchase new cards for your deck. These can be stronger weapons, multipliers, and much more to make it easier for you to defend your base. Also make sure to upgrade your base stats so that it's fortified.
What is it about?
Visually, Missile Cards features a retro 16-bit aesthetic that serves as a great homage to classic games, including Missile Command, which this is based on. The game makes use of a bright and vibrant color palette, and all of the icons on the cards makes it easy to tell what they do from a single glance. The text is also pixelated like back in the day, but still easy-to-read. Missile Cards also takes place on various planets, so you can expect to see some beautiful landscapes in the backdrop of the grid you'll be playing on. The animations in Missile Cards are smooth and fluid, and I had no issues at all on my iPhone 7. There's also a fantastic chiptune soundtrack to go along with it all, so it feels like the finishing touch on the vintage design. For the developer's first release on the App Store, Missile Cards is an excellent title in terms of visual and audio design.
App Store Description
"Missile Command meets Solitaire...only with more doomlasers, death, and explosions."

MISSILE CARDS is an intense solitaire-style turn-based defense card game loosely inspired by the retro Atari classic Missile Command. Arm your defenses and blast away flaming death orbs, nuclear warheads, and other hazards hurtling down from space. Unlock new bases, upgrade your arsenal, complete missions, and challenge your card skills against increasingly brutal decks in this highly replayable solo strategy card game.

========
FEATURES:
========

-Avoid annihilation through strategic card play and pressure cooker defense card deployment - every choice could be life or death!

-5 challenging bases/decks full of unique hazards, defenses, special gameplay and challenging missions.

-Deploy missiles, lasers, cannons, shields, repair drones, orbital death rays, and much more!

-Unlock special cards to modify your deck and improve your chances of survival!

-Earn XP and upgrade your bases with special abilities and enhanced defenses!

-Fast to learn, highly replayable solo card game action!

-Solo card play: NO OTHER HUMAN BEINGS REQUIRED TO HAVE FUN!

-Delicious punishment: This game is hard. Yes, that's intentional.


=======================================
WHAT THE PRESS IS SAYING ABOUT MISSILE CARDS:
=======================================

"Missile Cards is a turn-based card game that mixes the defend-your-base action of the classic Atari game Missile Command with the solitaire-style tactics of Card Crawl. The result ends up being the perfect storm: a game that is simple to play yet hard to quit."
- Stately Play

"Strategizing is fun: it's satisfying to plan the use of your cards carefully and a relief when a risky gambit pays off....[Missile Cards] has a a nice retro feel: attractive yet simple graphics with a catchy chiptune soundtrack."
- PC Gamer

"Pure solo card battling bliss–and I love it...This is a really entertaining game. The difficulty, graphics, and strategy are all things that will keep me coming back to this game for quite some time."
- Bag O Games
Disclaimer:
AppAdvice does not own this application and only provides images and links contained in the iTunes Search API, to help our users find the best apps to download. If you are the developer of this app and would like your information removed, please send a request to
takedown@appadvice.com
and your information will be removed.