Listen to your existing audio books in a simple interface.
MP3 Audiobook Player Pro
by Oleg Brailean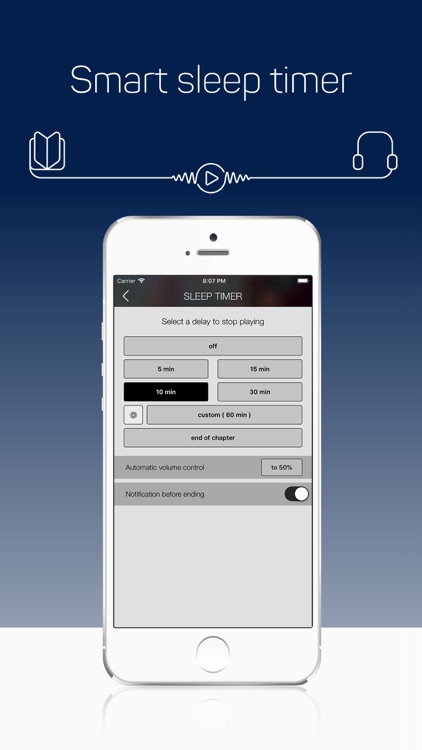 What is it about?
MP3 Audiobook Player offers a convenient place to keep and access your existing files if you don't want to go through your phone's onboard Music app. It supports MP3s (obviously) and Apple's M4B audiobook format. This app aims to make listening to audiobooks in MP3 and M4B formats easy and convenient!
Why we love it
It has a simple, clean interface. And we really like its sleep timer, which lets us doze off while listening without having to worry about finding our place again when we return to the land of the living.
App Store Description
MP3 Audiobook Player is the easiest and most convenient app for listening to audiobooks in MP3 and M4B formats on your iPhone, iPod Touch or iPad!

••• The app does not feature any audiobooks, but only plays your own audio files •••

The purpose of this app is to make listening to audiobooks in MP3 and M4B formats easy and convenient!
There are lots of websites with all kinds of audiobooks dubbed by professional actors and enthusiasts. Most of such audiobooks are distributed as folders with multiple MP3 files.
I'm, the author of the app, listen to audiobooks all the time. Therefore, I did my best to make MP3 Audiobook Player a tool that has everything necessary to make this process intuitive and convenient.

• Plays MP3 and M4B (without DRM protection) audiobooks.
• Adjustable playback quality (0.5x to 2.0x).
• The book cover is loaded from an image file in the book's folder or from an embedded image from an audio file.
• Automatically saves the current playback position for all audiobooks.
• Jump to any file (can be enabled in settings).
• Supports standard headphone controls.
• Supports Apple Watch.
• Playback control from the Control Center and Block screen.
• A sleep timer with adjustable sleep periods or sleep after the end of the current chapter.
• Possibility to add/remove books through iTunes and from the computer via Wi-Fi
• Support WebDav for adding audiobooks directly from Explorer on PC or from Finder on MacOS