For the whole family.
Mr. Cupcake Has The Sprinkles – An Interactive Animated Storybook App For Kids HD
by Mighty Yeti Studios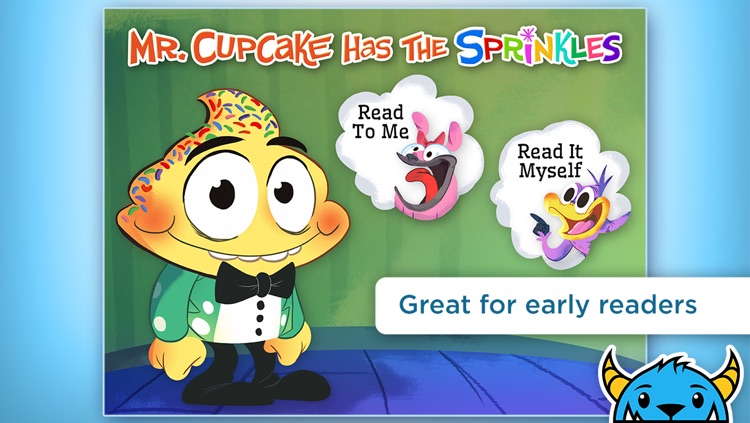 FREE

in the App Store
Tag along with Mr. Cupcake as he tries to make it to his friend's birthday party on time in Mr. Cupcake Has The Sprinkles.
What is it about?
*** "...A fun storybook app with super silly tongue twisters and lots of interactive images to keep children engaged as they read." -- bestappsforkids.com - 5-star rating
For those who...
It's a lot of fun for children of all ages.
Not for those who...
The app hasn't been optimized for wide-screen iDevices, so it's best enjoyed on iPad.
Why we love it
If your child is just learning to read, this is a great way to work on their skills.
App Store Description
*** "...A fun storybook app with super silly tongue twisters and lots of interactive images to keep children engaged as they read." -- bestappsforkids.com - 5-star rating
*** Top 5 Apps of the week - iheartthisapp.com
*** This app is fully unlocked with no in-app purchases.

*** Experience the silly story and wonderful wacky world of Mr. Cupcake and his friends in this great interactive storybook!
*** Read along and discover over 70 fun interactive touch points with beautiful art and animation
*** "Read To Me" in Spanish & English features a full voice cast of kooky characters

Mr. Cupcake is getting ready to go to Mr. Cookie's birthday party. He grabs his coat, his keys, and Mr. Cookie's present, but wait! What's that mysterious crunching noise? Mr. Cupcake can't figure it out. Can you? Let's hope Mr. Cupcake makes it to Mr. Cookie's birthday party in time for the goofy games, grape gelato and goodie bags!

Features:

• An engaging, silly story filled with characters kids of all ages will love
• Over 70 interactive elements for kids to tap and discover
• Sound effects, music, and a full cast of voiced characters for narrated listening
• A safe, worry-free environment with no third-party ads

Highlights:

• Read and listen in Spanish and English
• Intuitive and simple interface appropriate for all ages
• Professional narration and illustrations from animation industry professional artists
• 31 pages of fun for the whole family

Benefits of Books:

• Educators agree that reading books is the gateway to learning
• Exposing children to fun books that capture their imaginations is essential to encouraging a love of reading
• Reading to children is family time
• Kids are natural explorers: interactive books appeal to their sense of curiosity and makes reading fun!

About Mighty Yeti Studios:

From our roots in the animation industry, Mighty Yeti Studios is dedicated to telling stories to the current generation of kids who enjoy their media and entertainment in exciting new ways. Our interactive storybooks feature original characters, illustrations, animation, and voice acting talent your kids will love.

Visit Us: http://www.MightyYeti.com
Like Us on Facebook: https://www.facebook.com/MightyYetiStudios
Follow Us on Twitter: @Mighty_Yeti
Watch Us on YouTube: http://www.youtube.com/user/MightyYetiStudios/

Contact Us:
Let us know what you think! Questions? Suggestions? Contact us at [email protected]