Mr Future Ninja is a good game for those who like stealth, puzzle, and platforming games all combined into one title.
Mr Future Ninja
by Appsolute Games LLC
watch trailer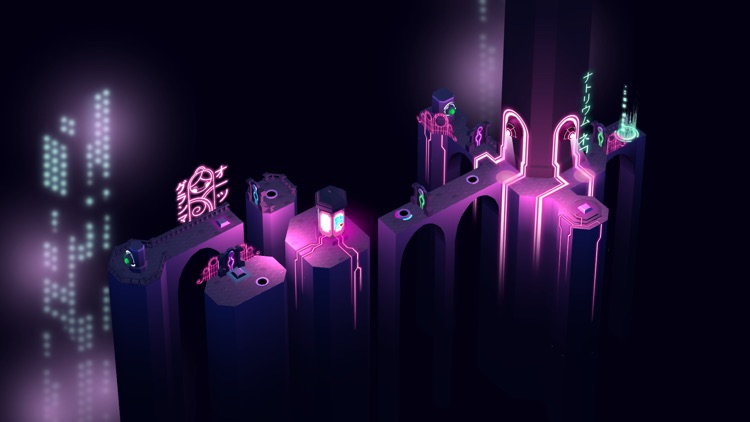 $1.99

in the App Store
Mr Future Ninja is a gorgeous stealth puzzle game that is hard to put down once you get going.
Control multiple ninjas. As you go through the game, you will rescue some ninja comrades. They'll join your group and then you can work as a team to solve puzzles and get out of the evil corporation before they clone you and your ninja friends to use as servants.
Unique abilities. Each ninja will have their own unique ability. For example, the purple ninja is able to throw shurikens to dispatch foes and activate switches. The teal ninja can dash quickly, reaching faraway spots that you wouldn't otherwise be able to reach.
Watch out for enemies. The factory is teeming with guards. You'll have to watch out for them, because they'll make sure you won't make it out alive. New enemy types are introduced along the way.
What is it about?
Visually, Mr Future Ninja is stunningly gorgeous and is what I would consider some appealing eye candy. With the game taking place in a futuristic world, it clearly shows with the architecture of each stage, which consists of isometric-like grids, similar to what you would find in [Monument Valley](https://appadvice.com/post/unravel-the-secrets-of-sacred-geometry-in-monument-valley-2/1187265767/883789791). Mr Future Ninja packs in a lot of pizazz with the bold and vibrant neon lights, and some levels feature slightly blurry dreamscapes and softer hues that are pleasant on the eyes. Animations are smooth and fluid on my iPhone 7, so there was no issue with lag or choppy frame rates. The ambient soundtrack is delightful to listen to, and the sound effects are a fun touch. Huijaus Studios did a great job with the visual and audio design of Mr Future Ninja, which shows how much thought and care they put into it during the two-and-a-half years of development.
App Store Description
**** Grand Prix | White Nights 2016 ****
**** Best Game Design | White Nights 2016 ****

Stealth around a futuristic skyscraper and free your clan!

========
A ninja stealths around a futuristic skyscraper - the headquarters of an evil corporation. They have abducted your clan and are planning to conduct experiments on them.

Their plan is to clone their own ninjas and sell them as mindless servants in a service called Mr Future Ninja!

You're the last hope to bring down the corporation and free your clan!
========

Synchronize your progress across all your devices with iCloud

Enjoy :)