Musyc is a fun and innovative music application where touch turns into music
Musyc Pro
by Fingerlab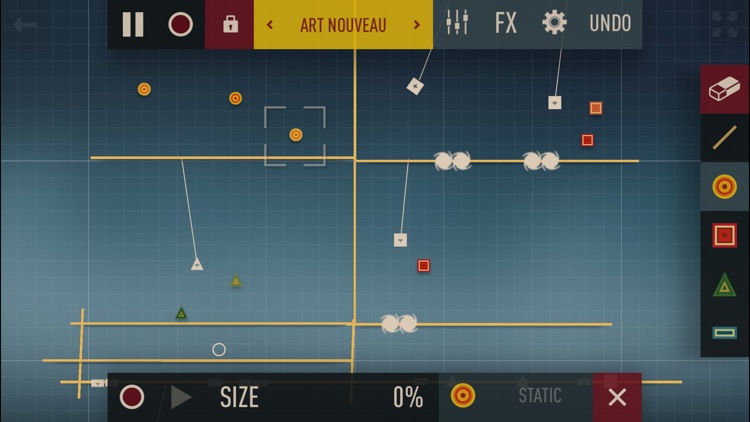 What is it about?
Musyc is a fun and innovative music application where touch turns into music.
For those who...
It's really designed for anyone who enjoys fiddling around with shapes and sounds.
Not for those who...
Due to the overwhelming amount of features and realistic physics, the app requires quite a bit of horsepower. If you have an older iDevice, basically anything pre-iPhone 4, this app will not perform well.
Why we love it
If you don't have much musical talent but enjoying creating it, Musyc Pro is for you. It may look daunting at first, but just hit play and watch the pre-designed songs play out and you'll get the hang of it pretty quickly.
App Store Description
Musyc is a fun and innovative music application where touch turns into music.
No use of piano keyboard or partitions, draw shapes and listen to your piece of music while viewing sounds bouncing on the screen.
Enjoy the 88 instruments (organized into 22 groups) exclusively created and produced at Fingerlab music studio as well as all the exciting and new physical and music tools provided in Musyc.

Musyc Pro has the same features as the app Musyc with In-App Full Version.

Features:
-Graphic design by Jonas Eriksson
-Retina Display
-Optimized for iPhone 5 and new iPad
-High quality sound engine
-Ultra-realistic physical engine
-Audio track mixer (level, pitch, length, pan, mute)
-2 effect channels with 5 effects (Delay, Overdrive, Reverb, Phaser, …)
-Physical sequencer
-Motion recorder
-Advanced physical objects (planet, black hole, modulator, …)
-User sound kit with samples import (Dropbox, microphone, iPod, iTunes, Audiopaste)
-Real-time audio recording
-High-quality or compressed exports (DropBox, SoundCloud, Mail, AudioCopy and iTunes)
-Video recording and export to Facebook, Vimeo, Mail and Photo Library
-Inter-app audio support
-Audiobackground support
-2 skins available: standard and black & white

Watch Musyc video trailer:
http://youtu.be/FqpuCRF-uoc

Coming soon in next update:
-Midi full implementation
-AudioBus support

Enjoy!

Fingerlab Team