This app lets you be in control of your pet's health and well-being
MyPets - Pets Manager
by Henrique Guttler Morbin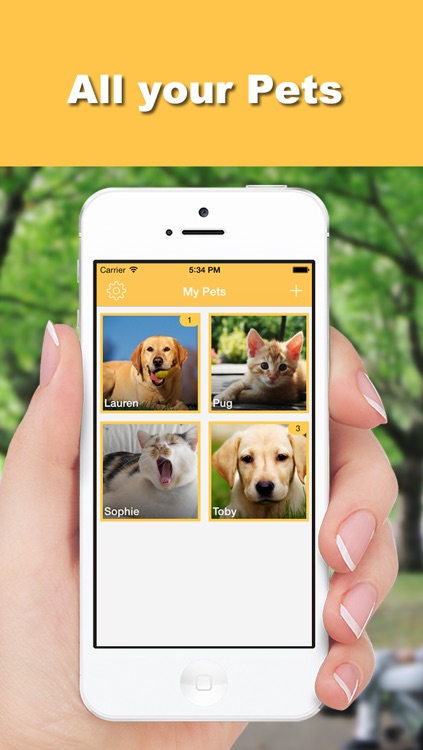 FREE

in the App Store
MyPets - Pets Manager helps you keep track of all of the important medical history of your pet.
What is it about?
MyPets is a simple app that lets you input and log all of your pet's medical history, including: vaccinations and boosters, vermifuge, medications, baths, weight control, and even find out how old they are in human-dog years. MyPets is an app where you're in control of your pet's health data. Treat them like a member of the family.
For those who...
Like manual control of their pet's health data
Are data nerds
Not for those who...
Prefer an automated system
Want official medical records in the app, not just input data
Why we love it
Our pets have a lot of medical records and history, so this app makes it easy to input all of that information and keep track of it manually.
MyPets is FREE but there are more add-ons
App Store Description
Descrição:
========
MyPets is the best way to care of your friends.
With a easy way, you take care of the health and welfare of your Pets.
This application will be your second best friend.

Features:
=======
- Manage the activities of your pets;
 - Manage the VACCINATION CARD with photos and schedule fortifications with reminders;
 - Manage the VERMIFUGE CARD with photos and schedule fortifications with reminders;
 - Manage historical of CONSULTATIONS and schedule new with reminders;
 - Manage historical of BATHS and schedule new with reminders;
 - Manage historical of MEDICINE and schedule new with reminders;
 - WEIGHT CONTROL + Chart;
 - Check the equivalence of HUMAN AGE.

Security:
=======
- Enable Dropbox to save all your data in the cloud;
 - The Dropbox will keep your data synchronized with all your devices (iPhone, iPad and iPod Touch)

Contact and Support:
==============
https://www.facebook.com/AppMyPets