Pay once, play forever
Mystery Trackers: Silent Hollow HD - A Hidden Object Detective Game (Full)
by Big Fish Games, Inc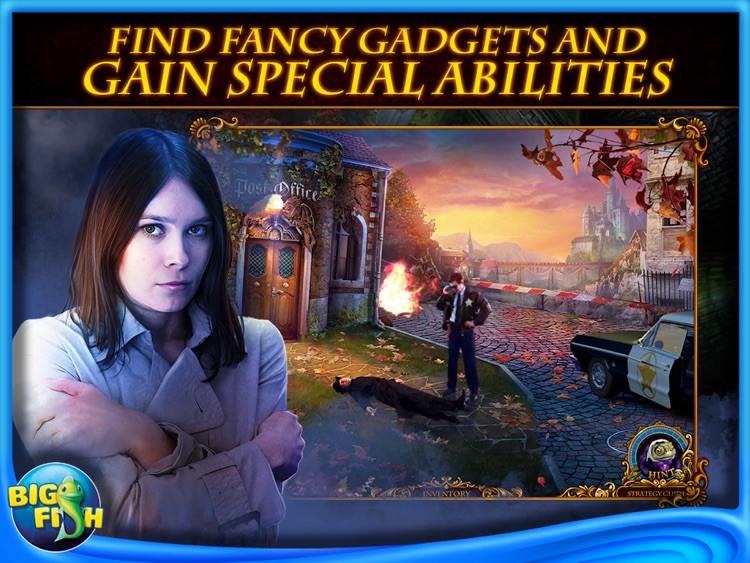 What is it about?
Pay once, play forever! No in-app purchases!
For those who...
It's for fans of hidden object adventure games.
Not for those who...
If all you want to do is search for objects, skip this one. Half the fun is the mysterious tale.
Why we love it
If you're a fan of detective games, check out Mystery Trackers. The story plays out through eye-popping visuals.
App Store Description
Pay once, play forever! No in-app purchases!

Trouble has hit the Mystery Trackers where it hurts most, their home base. Mystical floating masks are in control. You're the only one who can solve the mystery of the masks and save your fellow agents.

• FIND FANCY GADGETS AND GAIN SPECIAL ABILITIES
Investigate Mystery Trackers HQ and Silent Hollow to collect weapons and abilities. You'll need all the help you can get to halt the collapse of the Mystery Trackers.

• ELF IS BACK!
Your ever-helpful canine sidekick is at the ready. He'll investigate small spaces and offer companionship when the going gets rough.

• WHAT EVIL IS BEHIND THE CHAOS?
A long-time enemy of the Mystery Trackers is back and bent on revenge. It will be tough, but with your extra abilities and Elf, you may just come out on top!

• SAVE SILENT HOLLOW BY UNLOCKING THIS EPIC COLLECTOR'S EDITION!
Experience a new adventure in the bonus game. Purchase items for Elf and his new family in the game shop. Immerse yourself in the wallpapers and concept art for this amazing Hidden Objects Puzzle Adventure.

*** Discover more from Big Fish! ***

Check out our entire game library with our Big Fish Games app absolutely FREE here: http://bigfi.sh/BigFishGamesApp

Sign up for our newsletter and never miss a new release or promotion again: http://bigfi.sh/iSplashNewsletter

Big Fish is the leading global marketplace to discover and enjoy casual games. You can enjoy our virtually endless selection of games anytime, anywhere — on your PC, Mac, mobile phone, or tablet. Learn more at bigfishgames.com!

Become a fan on Facebook: http://www.facebook.com/BigFishGames

Follow us on Twitter: http://bigfi.sh/BigFishTwitter