When coupled with the Neurio Sensor, the Neurio Home App provides a smarter way to manage your home, allowing you to live more comfortably and securely, all the while saving you money each month
Neurio Home
by Neurio Technology Inc.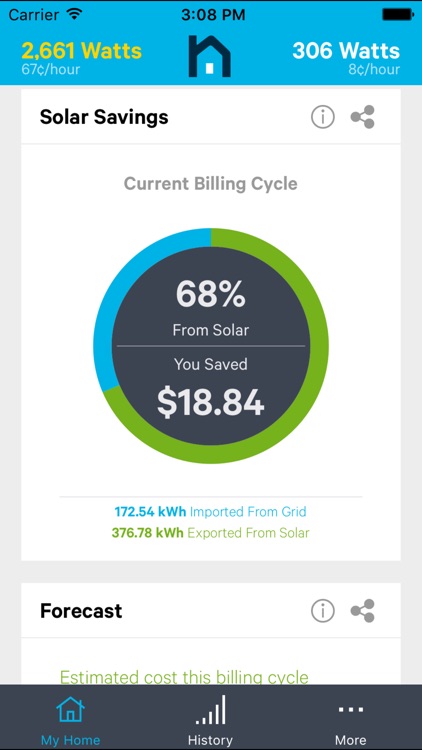 FREE

in the App Store
Neurio Home works with the Neurio Sensor to manage your home and monitor it while you are away. The app offers real-time energy usage, bill forecasting, tips, notifications, and appliance tracking and usage.
What is it about?
When coupled with the Neurio Sensor, the Neurio Home App provides a smarter way to manage your home, allowing you to live more comfortably and securely, all the while saving you money each month.
App Store Description
When coupled with the Neurio Sensor, the Neurio Home App provides a smarter way to manage your home, allowing you to live more comfortably and securely, all the while saving you money each month.

- Reduce Energy Costs: Our smart energy tips make it fun to discover how you can save money each month. You'll be surprised what you will find

- No More Bill Surprises: Know what to expect before your bill even arrives, making unexpected surprises a thing of the past

- Pinpoint Energy Hogs: See which appliances are the energy hogs and find even more savings. Requires Intelligent Energy Monitoring add-on

- Best Friends with Solar: Already have a solar power setup? Understand how much your investment is generating and the net impact on your consumption

- Added Peace of Mind: 24/7 home monitoring so you're never left wondering if your kids are home or if the oven was left on by accident

- Simple Installation: Installing Neurio in your home's electrical panel only takes about 15 minutes. With no wire cutting necessary, installation is a snap


For tips on how to use the Intelligent Home Monitor Appliance Detection feature - http://support.neur.io/customer/portal/articles/1933209-what-can-i-do-with-the-appliance-detection-feature


To use the Neurio App, you need to:
1) Install a Neurio Sensor in your breaker panel
2) Sign up for a Neurio account in-app or at https://my.neur.io
3) Sign in to your Neurio Home using the Neurio account
4) Access Intelligent Home Monitoring functionality by upgrading your Neurio App