With Nickel, kids learn about spending and saving real money

Nickel - The Allowance Manager and MasterCard Prepaid Card
by Nickel Labs, Inc.
watch trailer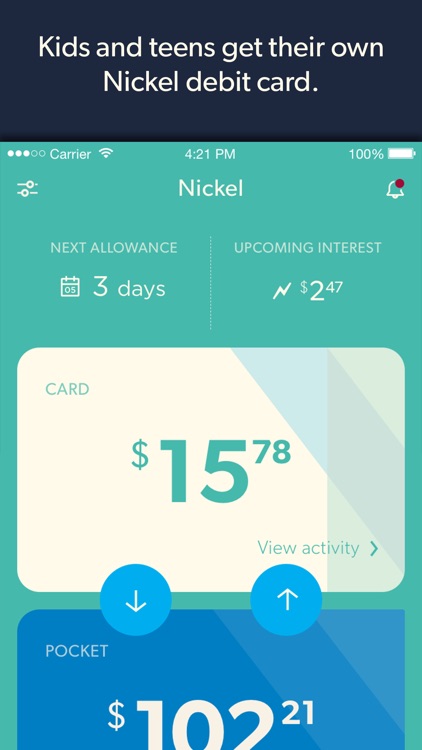 Removed

from the App Store
A generation ago, giving children an allowance meant handing over some cold, hard cash. Cash, which was not trackable to see where it was spent, and cash that could not be spent online (or on iTunes). So what's a parent to do? Give their 13-year-old access to their credit or bank card? No way. That's where Nickel comes in, a new service launching this week on the App Store.
Parents tracking spending.
What is it about?
Nickel replaces your traditional paper allowance with no drawbacks that plague many digital payments solutions (ehem...Apple Pay.) With Nickel, kids get a physical prepaid, reloadable MasterCard debit card to call their own. The allowance you set is auto-loaded onto the child's card every week or month. The Nickel card works like any other card, both online and in brick-and-mortar stores. However, kids cannot take cash from the card, so no ATMs or cash back at the store.
For those who...
Who want to get away from bank cards.
Not for those who...
Kids need to learn about spending and saving money. Parents need to understand that kids are part of the first "cashless" generation. Nickel fits the bill on both points.
Why we love it
Hoping to teach their children about spending and saving money.
App Store Description
Nickel helps kids and teens get money-smart. Part teaching app, part prepaid MasterCard®, Nickel is the best way for parents to stay in control while their kids (8+) gain real-world experience managing money.

With Nickel, kids can learn to handle money responsibly: how to earn it, when to spend it, and how it can grow. Parents maintain oversight while children face everyday financial choices. Dinner out or a movie in? Play video games or wash the car? Spend it now, or save up for the future? These decisions bring consequences and valuable lessons learned. We believe it's better to learn those lessons on $30 rather than $30,000.

Using the app, parents set up their family, and kids activate their Nickel Card. Nickel is free to try for two months. After that, it's only $5 per child per month. Note that kids must use a different phone number from their parent to activate their cards and log in.

SEND MONEY INSTANTLY AND AUTOMATICALLY
Parents can send money to their child's Nickel Card from anywhere, for any reason. They can set a consistent, automatic allowance, pay for chores and cover emergencies.

SAFER THAN CASH
Parents and kids can instantly disable their Nickel Card if it's lost or stolen. Unlike cash, there's a record of where it was spent. And in an emergency, parents can send money instantly, from anywhere.

TRUST AND VERIFY
Nickel makes it easy for parents and children to keep track of spending. Each decision – even a mistake – is a teachable moment and a conversation starter.

ENCOURAGE SAVING
Kids can save up by sending money to their Nickel Pocket, which can earn interest from their parents. Kids can also set up automatic contributions through AutoPocket and watch it grow.

MOTIVATE THROUGH INTEREST
Earning pennies per year with today's interest rates isn't very engaging. We enable parents to set and pay a meaningful interest rate that helps kids understand the power of compound interest, opportunity cost, and the time-value of money.

SECURE SUPERVISION
Because Nickel is designed with kids in mind, certain transactions are automatically blocked: no ATM access, no travel, no gambling, and more. See the full list of restricted categories in the Nickel mobile app.



WHAT PARENTS AND KIDS ARE SAYING ABOUT NICKEL:

"Nickel is awesome. You can see how much you're spending and you can see how much you're setting aside, and it just makes you more money-aware." — Natalie, age 13

"Most kids can't tell you what they spent money on two days ago, let alone two weeks ago. This can tell the kids what they spent money on two weeks ago. I think that's extremely powerful." — Alex, father of Levi, age 15

"This is a new, fresh approach that gives kids a place in this huge finance world. I know that Nickel would help me as a parent show my son how important saving is and that you will earn more and more, the more you set aside, and that's awesome. Nickel would actually help me stay on track and stay organized with allowance, because juggling a large family sometimes that can be difficult. This simplifies everything for us." — Tenisha, mother of Anthony, age 12

"Without a tool, without having anything concrete to look at, everything is like 'No, you're spending too much money.' Or, 'You're spending it on things that you don't really need.' With Nickel I can say, "No, really, on this date, this is how much was spent and you spent it on this. Was that really what you wanted to do? How do you feel about? Did you think that was a wise thing to do?" — Alexis, mother of Angeline, age 13

Have questions or feedback? Reach out any time at [email protected] We'd love to hear from you!

This card is issued by Sutton Bank, member FDIC, pursuant to license by MasterCard International.

Music in the App Preview: "The Light Between Us" by Scott Holmes
From the Free Music Archive
CC BY 4.0
http://creativecommons.org/licenses/by/4.0/
http://freemusicarchive.org/music/Scott_Holmes/~/The_Light_Between_Us
Disclaimer:
AppAdvice does not own this application and only provides images and links contained in the iTunes Search API, to help our users find the best apps to download. If you are the developer of this app and would like your information removed, please send a request to
[email protected]
and your information will be removed.