Montage parody + most popular game ever = loominati confermed
Noscope Flappy - MLG Bird Version - The Parody
by Gordon Vogel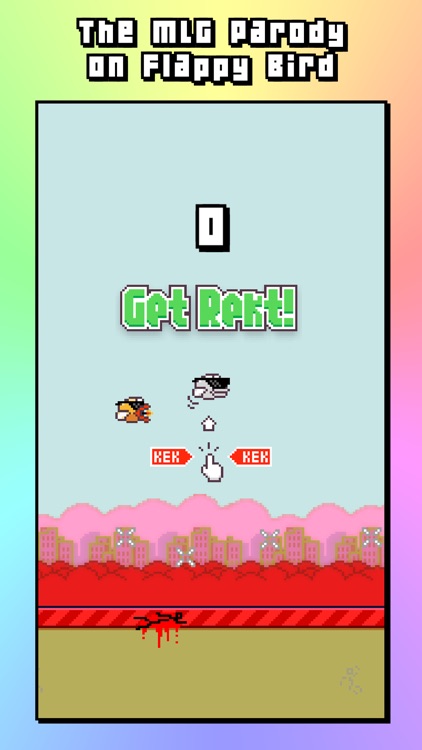 What is it about?
Montage parody + most popular game ever = loominati confermed!
Noscope Flappy is FREE but there are more add-ons
App Store Description
Montage parody + most popular game ever = loominati confermed!

This flappy bird parody delivers more than just a few minutes of fun. It's actually a real game with leaderboards, achievements and stuff to unlock. It's combining a quality gaming experience with the fun and randomness of our beloved internet-memes.
Try reaching better highscores to unlock new skins or get the pro-pack to gain access to more funny sounds, memes, skins and the newly added dank mode.

Featuring:
▸ 9 Skins:
Classic, Party, Noscope, Spooky, Freddy, Spooderman, Doge, Shreked, Developer
▸ 3 Game-Modes:
Classic, Kid-Mode, Dank-Mode
▸ 400+ Memes:
We got everything!
▸ Power-Ups:
So you can rek fools and reach the top of the leaderboard!

Details:
- Kid Mode - Play the game on easy mode and still unlock skins. You will only be able to play with the skins in kid mode tho until you actually unlock them for real.
- Dank Mode - A hardcore mode only for true mlg pros. The screen will be flooded with memes and special effects. Warning! It's really hard! To make it fair you will receive double the points.

Pro Pack:
- More than 100 additional memes, sounds, gifs
- 3 more skins: Doge, Shreked, Developer
- New gamemode: Dank Mode
- No Advertisement
- Thanks for supporting us! :)

Challenge your friends over Game Center to see who's the real MVP.


Thank you for all the great and funny reviews:

-Yes
by uraqt97
"Couldn't see the screen cause fedoras kept blocking the way. 10/10"

-420/69-IGN
by FreddySalinas
"Game critics call this the most MLG game ever yolo mcswag"

-This game is gr8 m8
by Numa numa ye
"Such an inspirational story, I'm emotionally attracted to this amazing game. Keep the quix scope goin"

-Gr8st Game in the History of Forever
by Vernonator21
"Seriously, this game is absolutely hysterical. Every time I play it I'm in tears by the end."

-The Best
by David Dubina
"Hands down the greatest game ever to be released in the apple App Store"

-8/8 gr8 app.
by Anonymous9271047639193028
"All I have to say is WOW! ;) 8/8 would ign. As somebody once said, " w33d is ma lyfe." This app definitely portrays that. Would recommend to anybody who's with mlg."

-gr8 b8 m9
by Coolness 12345678910
"All of the mlg gods combined their powers to create the all powerful LORD GABEN and he took his blessing and have it to a young boy to create this masterpiece"

-20/69-IGN
by 420yoloswagthomasthetrain
"THIS GAME MADE ME PEE"

-Snoop Dog Approves
by ƒɾσηz
"I talked to snoop the other day. He recommended me this dank game. I tried it out, now look at me, my high score is 420. I am as high as snoop right now."

-Best game ever
by Pimp daddy swagger pants
"Duuuude this game is amazing and addicting get it now now u will Neve be the same after this we got snoop dogg and mlg and swagritos it doesn't get any better get it now. Get the sanic and be free!!!! Be free!!!!! Peace out bros stay awsome this isn't pewds tho sorry sp out!!!!!!!!!"

-Gr8 d8 8/8 r8 m8
by Splenda Mommy
"If I could marry a game it would be this one. I would sacrifice my first born for this game. This game has consumed my every waking moments since downloading and I can no longer differentiate my dreams from reality as all I know has become Noscope Bird. Flap. Flap, flap. The pipes. They're everywhere. You cannot escape the dancing Snoop Dogg. Everywhere, they're everywhere."
Disclaimer:
AppAdvice does not own this application and only provides images and links contained in the iTunes Search API, to help our users find the best apps to download. If you are the developer of this app and would like your information removed, please send a request to
[email protected]
and your information will be removed.