The to-do list, notes, and calendar editor done in Markdown
NotePlan: Markdown Calendar, Notes and Todo-Lists
by Eduard Metzger
watch trailer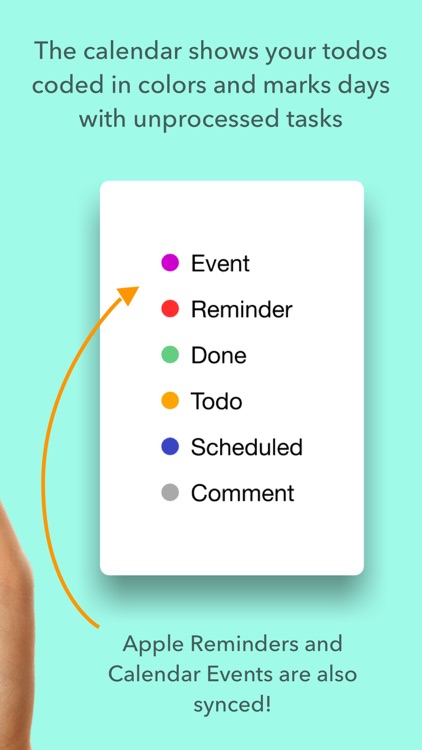 $14.99

in the App Store
When you want an easy-to-use app for to-do lists, notes, and your calendar, something that uses Markdown is a fresh thought. That's precisely what this app does.
Add to-do checklists from your notes. When you're keeping notes, you can quickly add and schedule to-do checklists without ever leaving your note. Just type the asterisk (*) or tap the button and enter your to-do. You can even schedule it, and it will show in NotePlan's calendar view.
Creating notes using Markdown. With NotePlan, you can create to-do lists as well as notes, using the Markdown syntax. It's easy to learn, and allows you to export your notes in rich text for gorgeous yet simple documents.
Schedule your day straight from the calendar. NotePlan allows you to schedule to-do items and jot down notes right in the calendar view. Just tap in the bottom of the screen, and you'll go into a note specific to that day. Then type away, creating your to-do list items for the day and keeping notes as you go.
Easily check off what you've completed. It's easy to check off what you've done. Just tap anywhere in that item, and then tap the checklist icon. That marks the item as done, and it shows that way in your calendar view.
Integration with your existing calendars. NotePlan can integrate with your existing calendars, so events you add there will show up in NotePlan. It makes for a terrific way to keep track of the day's events and important dates.
What is it about?
The first thing you need to understand about NotePlan, if you don't already, is Markdown. Markdown is a syntax language that helps you format text using quick keyboard strokes. NotePlan uses Markdown extensively, both for creating to-do lists and for formatting your notes.
For those who...
Are keyboard junkies and want to create their notes and to-do lists without tapping or clicking
Want a flexible way to manage their days
Not for those who...
Don't know or want to learn Markdown
Don't use to-do lists
Why we love it
NotePlan is a complete to-do list app, as well as a note-taking and calendar title. It allows you to easily manage both your day-to-day activities as well as future tasks. What makes this app truly unique is the use of Markdown, which really speeds up both taking notes and creating action items. You can quickly and easily craft your to-do list, using Markdown for both formatting and to act as the check boxes you'd see in other to-do list apps. The difference lies only in how you mark things complete, since you have to tap twice (or use a gesture followed by a tap). All in all, the app works fantastically, and allows you great freedom in how you create your notes and your to-do lists. The ability to share your notes to Dropbox, Mail, and other apps is fantastic, especially when it's all done in Markdown. I only wish the app would export the notes to rich text format or PDF.
App Store Description
Plan your day efficiently on iPhone, iPad, and Mac

NotePlan is a daily planner and a place for your projects. Get more things done with a Markdown Calendar, Notes, and Todo Lists

Daily planning can be a mess when you have giant todo-lists or a dozen scribbled notes in notebooks. NotePlan helps you fix this pain with a mix of a calendar, bullet journal, notes, and todo-list. Use it to build your productivity machine!

NotePlan is for busy professionals. Like developers and designers with too many side-projects and a job to handle. It's for people who love writing and plan by writing everything down. If you love using Moleskin Diaries or Journals, NotePlan is perfect for you.

All your notes are safely stored and backed up as lightweight text files in your iCloud Drive. Nothing from NotePlan is sent or stored on our servers. It's designed for Apple only.

NotePlan was made, because no other App has this unique combination of productivity tools: Calendar, Todos, and a Markdown Editor. Use it as:

• Task Manager
• Planner
• Daily Notes
• Calendar
• Note-Taking
• Project-Management
• Todo-List
• Task-Management
• Markdown to do app

NotePlan consists of following parts:

# Calendar:
• Shows your tasks and events in a monthly view.
• Different colors show different states of your tasks.
• Syncs Apple Calendar Events and Reminders.
• Days with open tasks are marked, so you don't miss them.

# Daily Plan:
• Every day in your calendar has a dedicated note for planning
• Manage tasks by checking them off as 'done', 'scheduled' and 'canceled'.
• Schedule a task (or multiple at once), if you couldn't finish it today. Push it quickly to tomorrow or any other day.
• Jump between days and months through swiping.
• Simple text formatting with markdown, such as bold, italic, lists, titles, etc. Organize your day in different projects using titles ('# title') for example.

# General Notes:
• Besides the calendar, you can also manage general notes like checklists, backlogs, etc., which don't have a specific date.
• Filter general notes by tagging them to keep track of your different projects.
• Schedule individual todos from a general note directly into the calendar.

---

NotePlan was and is continually updated and improved together with an active user community consisting of professionals from all over the world. Many thanks!