Dear Thermomix Cookidoo Fans,
Official Cookidoo App
by Vorwerk International Mittelsten Scheid & Co.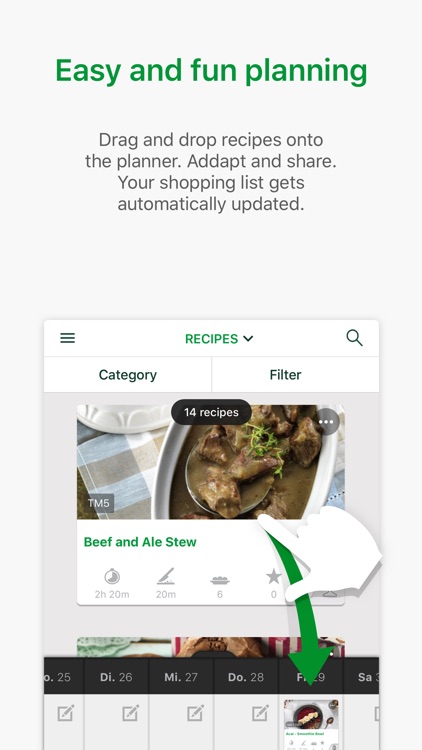 What is it about?
Dear Thermomix Cookidoo Fans,
Official Cookidoo App is FREE but there are more add-ons
3,99 €

Pomazánky na párty

3,99 €

Podzimní polévky

3,99 €

Luštěniny

3,99 €

Italské menu

3,99 €

Šťavnaté burgery

3,99 €

Bez cukru, ale sladce

3,99 €

Štědrý den

3,99 €

Snídaně

3,99 €

Srdeční záležitost

3,99 €

Bez lepku
App Store Description
Dear Thermomix Cookidoo Fans,
The Official Thermomix Cookidoo ® App gives you access to the growing universe of mouthwatering Thermomix ® Guided Cooking recipes. You pick and choose which recipes go with you wherever you are. One free welcome recipe collection is included to get you started right away.

YOUR THERMOMIX COOKIDOO ® ACCOUNT
To use the app you need to have your Thermomix Cookidoo ® username and password. Your local Thermomix Cookidoo ® website will tell you how to create your account for the app.

GET INSPIRED
Wondering what you are cooking today? Discover hundreds of ideas for every taste, season and occasion! Add recipe collections easily to your treasure via In-App-Purchase or with the new Cookidoo  ® Membership you get instant access to every recipe on Cookidoo. Everything's on the menu! Our weekly suggestions and editor picks will point you in the right way.

EASE YOUR PLANNING & SHOPPING
Planning and creating shopping lists are easy and fun, just drag and drop recipes to your planner and your shopping list is automatically created. Or create your shopping list from scratch, cross items off as you go through the supermarket, never forget anything you need at home.

MAKE IT YOUR OWN
Add your personal notes to recipes to adapt them to your personal taste. Or create your own recipe lists to manage your treasure the way you want.

COOK-KEY
Do you have a Cook-Key - our new accessory for Thermomix ® TM5? Then enjoy sending your recipe favourites, weekly planning, recipe notes and recipe lists from the iOS App to your Thermomix ®.