What's for Dinner?
OpenTable
by OpenTable, Inc.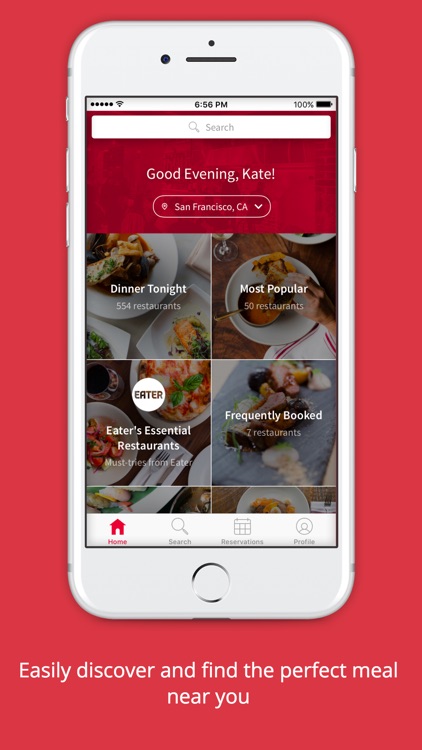 FREE

in the App Store
Discover, reserve, and manage restaurant reservations free and instantly—anytime, anywhere. ​
What is it about?
With the free OpenTable app, you can bring your pre-dining experience to your iPhone. Use the app to discover new restaurants to try and then book your reservations. Plus, earn points towards rewards every time you dine with the OpenTable app. ​
For those who...
Are foodies
Like trying out new restaurants
Are traveling
Not for those who...
Only like pizza
Live in a small area
Did we mention pizza already?
Why we love it
Featuring over 38,000 restaurant listings, OpenTable makes it easy to find a great place to eat.
OpenTable supports Siri commands
Are
there
any
reservations
for
Nick's
Seafood
on
Murphy
Street?
Reserve
a
spot
at
Donna's
tonight
for
2
people
What
restaurants
have
availabilty
for
6
tomorrow
at
8PM
Make
a
reservation
for
Matt
Jones
When
are
my
upcoming
restaurant
reservations?
Are there any reservations for Nick's Seafood on Murphy Street?
Reserve a spot at Donna's tonight for 2 people
What restaurants have availabilty for 6 tomorrow at 8PM
Make a reservation for Matt Jones
When are my upcoming restaurant reservations?
App Store Description
Discover great dining experiences and make free restaurant reservations at more than 43,000 restaurants around the world. Perfect for locals and travelers, find restaurants by location, cuisine and more plus get personalized recommendations based on your preferences. View photos, menus and reviews to guide your picks. Every time you book and dine, you'll earn rewards for future meals.

Easy restaurant reservations:
- Book tables, update reservations, cancel or re-book anytime, anywhere
- New! Invite guests to RSVP to your reservations right from your app

Find restaurants:
- Near me Now, New & Hot, Recommended for You, Dinner Tonight – find the right spot with custom lists
- Use search filters like location, cuisine, date and time
- See restaurant pics, reviews, menus, and more

Earn rewards:
- Earn points to redeem for dining rewards with OpenTable restaurants

Travel with us:
- Discover and reserve restaurants in the US, Canada, Mexico, United Kingdom, Germany, Australia, Japan, the Netherlands and more!

What folks are saying about us:
・OpenTable Is Secretly the Best Thing on the Internet (Gizmodo)
・World's Greatest Apps (Business Insider)
・100 Best iPhone Apps of All Time All Time (Mashable)
・12 Travel Apps Worth Keeping (The New York Times)
・Best Restaurant Dining Apps (People Magazine)

Have suggestions for us? We want to hear from you, send us a message.
https://community.opentable.com