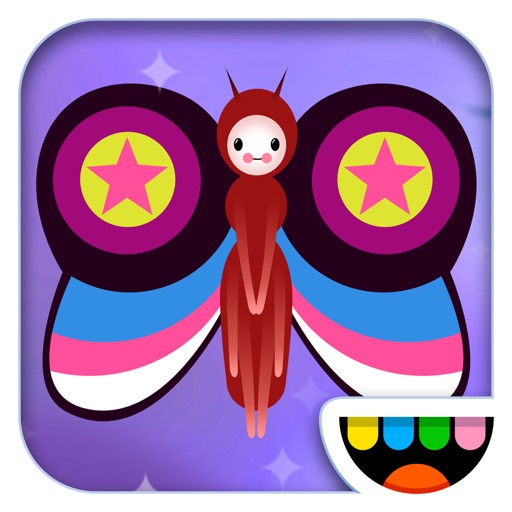 *Children's Technology Review - 2011 Editor's Choice*

Paint My Wings
by Toca Boca AB
$2.99

in the App Store
Your children can paint freely on the wings of butterflies in this art creation app from Toca Boca.
Paint the wings of butterfly- Use many colors! Tap on a fruit to select its color, and then put your finger to the screen to start painting
Pattern! You can choose a wide variety of brushes
What is it about?
*Children's Technology Review - 2011 Editor's Choice*
For those who...
It's designed for children ages two and up.
Not for those who...
The app hasn't been updated for larger screen sizes, so it's not ideal for iPhone 5 and above. It looks great on iPad, however.
Why we love it
If your child enjoys finger painting, this one is sure to please. Its fun, easy, and mess-free!
App Details
Last updated
October 12, 2012
Release date
May 18, 2011
App Store Description
*Children's Technology Review - 2011 Editor's Choice*

"Paint My Wings from Toca Boca is a lovely piece of work: kids can paint virtual butterflies on-screen, with the butterflies reading out the different colours as they go" - The Guardian

* * *
Paint My Wings is a fun and easy way for your kids to paint beautiful butterflies! Simply choose a color and start drawing on one wing to make the identical pattern appear on the opposite side.

Three different butterflies talks and tells you what colors are chosen - and laughs when you tickle it! When you've finished painting, take a snapshot of the butterfly to save a picture of it on your device!

* A FUN DRAWING GAME FOR KIDS AGE 2 AND ABOVE! *

FINGER PAINTING
Let your kids paint freely to make beautiful butterflies. The symmetry is enchanting and makes for instantly pretty drawings from the first stroke.

LEARN COLORS
Your kids learn the different colors as they draw, and the butterflies talk back and say what each of their names are.

MAKE A GALLERY
Save all your kids artwork by simply pressing a button! Send to friends and family!

LOADS OF BRUSHES
Make the creations more advanced by using our many different brushes as you paint!

FUN SOUNDS
The butterflies sing and talk while you paint their wings. Try giving them a tickle!

Paint My Wings is a digital toy from Toca Boca and is suitable for kids age 2 and above.

Privacy Policy
Privacy is an issue that we take very seriously. To learn more about how we work with these matters, please read our privacy policy: http://tocaboca.com/privacy

ABOUT TOCA BOCA
Toca Boca is a game studio that makes digital toys for kids. We think playing and having fun is the best way to learn about the world. Therefore we make digital toys and games that help stimulate the imagination, and that you can play together with your kids. Best of all - we do it in a safe way without third-party advertising or in-app purchases. Read more about us at http://www.tocaboca.com

Other apps from Toca Boca include Helicopter Taxi, Toca Tea Party and Toca Doctor.