Radian is a puzzle game with a twist
Radian - Puzzles with a Twist
by Grand Unified LLC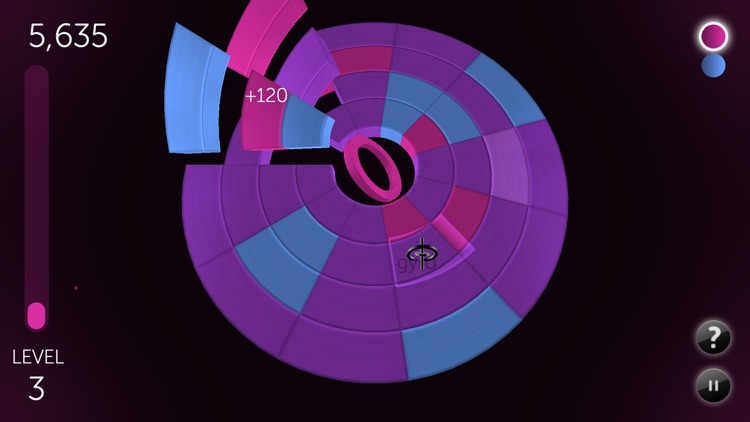 What is it about?
Radian is a puzzle game with a twist! Play a tactile 3D board made of rotating rings! Like many classic arcade games, it is mesmerizing in its simplicity, while growing more intense until you finally crack under the pressure.
For those who...
It's for fans of logic games like Rubik's Cube.
Not for those who...
The game lacks online leaderboards. If you like competing with friends on Game Center, this isn't the game for you.
Why we love it
If you're at all interested in casual puzzle games, you have to check out Radian. The snazzy visuals will draw you in, but the gameplay will keep you coming back for more.
App Store Description
Radian is a puzzle game with a twist! Play a tactile 3D board made of rotating rings! Like many classic arcade games, it is mesmerizing in its simplicity, while growing more intense until you finally crack under the pressure.

"It's like a Rubik's Cube® and Tetris® at the same time!"

Please feel free to contact us with any questions, comments or issues at: [email protected]

Puzzle Mode
Includes a huge number of handmade puzzles with a wide range of difficulty. Clear the entire board in as few moves as you can. Try to match or beat par for each level, and work your way to the really hard stuff!

Arcade Mode
Level up before the timer reaches 12 o'clock, or it's game over. As you level up, the board grows more complex and special blocks are added. Leveling up adds more blocks, additional colors and more specials to catch before they time out.

Infinite Mode
Like Arcade mode, the board grows more complex as you level up. There is no timer to beat here, so you can play until your brain hurts—or until your ride shows up.

• Get bonuses for playing smart and fast
• Chase high scores in Arcade mode, with updates on your progress
• Lovingly crafted and refined by an old school gamer and a thousand kind guinea pigs
• Randomized color palette changes with every game
• 100 handmade puzzles
• Dynamic music never repeats, giving cues about gameplay
• Plays in landscape and portrait orientation
• Play it in Dolby® on supported devices
• Built from the ground up 3 times, in a relentless pursuit of perfection and/or masochism
• Freakishly optimized... runs well on an iPad 1!

Specials (Arcade and Infinite) include:
• Chaos - Shuffles the entire board
• Flipper - Colors for the current block randomly change until you use it
• Gyro - Changes the rotation of the rings, making it difficult to connect colors
• Dead - Kills the current block, taking it out of play
• Rainbow - Causes the current block to respond to all colors
• Lock - Locks the entire ring for a period of time
• And more!

Praise
"Curse you..." - Amy
"Very simple and very fun. Just what you want from a game." - Dan
"A game for people who are good at math, but who are also creative." - Maddy
"I could play this for hours." - Sarah