* Chosen Best Children's App in Denmark 2015 and 2016 (bornibyen
Reshopper
by Reshopper ApS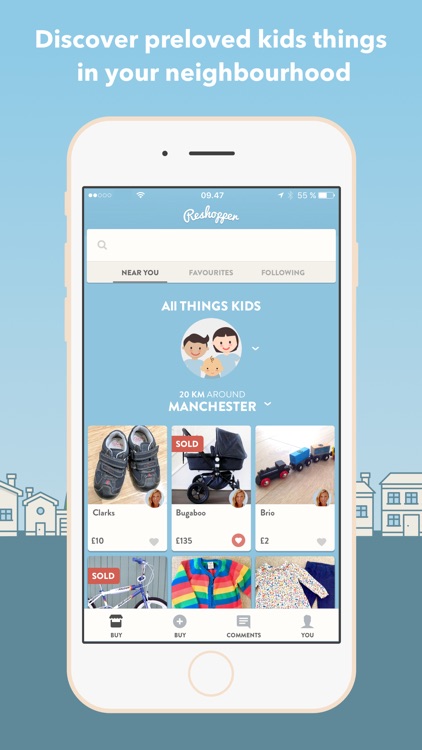 What is it about?
* Chosen Best Children's App in Denmark 2015 and 2016 (bornibyen.dk) *
Reshopper is FREE but there are more add-ons
39,00 kr

1 måned

25,00 kr

10 Credits

17,00 kr

6 Credits

9,00 kr

2 Credits

45,00 kr

20 Credits

59,00 kr

30 Credits

109,00 kr

60 Credits

199,00 kr

6 måneder

349,00 kr

12 måneder

219,00 kr

120 Credits
App Store Description
* Chosen Best Children's App in Denmark 2015 and 2016 (bornibyen.dk) *
* Best of Apps 2016 (Itunes App Store) *
* Find everything from jumpers, trousers, dresses and t-shirts to toys and furniture amongst thousands of items for kids all over the country *

Reshopper is the brand new, mobile marketplace for British families. Having already been downloaded over 300,000 times in Denmark, Reshopper is used daily by tens of thousands of Danish parents to sell second hand clothing for kids and make bargains. It's fast, efficient and safe!

WHY RESHOPPER?
Buy and sell everything kids, from clothes, shoes and toys to furniture, bikes and other equipment for children.
Fast and efficient to create an ad (<1 min)
FREE to buy and sell! Make money on your kids' used clothing and toys instantly.
See the items IRL before you shop and avoid posting and packaging.
Easy, safe and convenient - in your area.

MAKE MONEY, SELL LOCALLY: Do your kids have nice clothes and other items just gathering dust in the attic, cellar, garage or in the closet? Use Reshopper to easily transform your home to a shop - only using your smartphone. Make money instantly on things your kids no longer use, give old items new life and spread joy to families in your neighbourhood.

SAVE MONEY, BUY LOCALLY: Need new things fast but short on cash? Reshopper gives you a quick overview of what families in your area have for sale. Just open the app on your smartphone and start exploring. Maybe your neighbour or someone else in your community has that cot, changing table, bicycle or coat that you need for a bargain price?

SAFETY AND TRUST ARE OUR PRIORITIES: Shopping on Reshopper should always be safe. Through personal interaction and dealing with people in your neighbourhood you can avoid sending or receiving by post, therefore minimizing the risks of being scammed.