Go retro.
Retromatic 2.0
by Peta Vision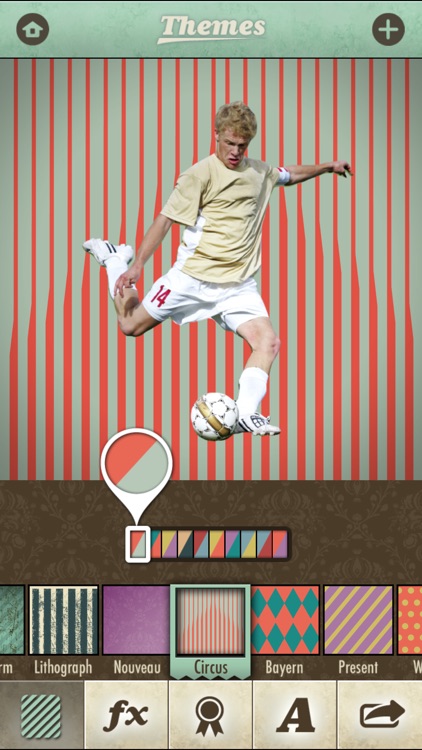 What is it about?
Take your pictures back in time with Retromatic's retro-style themes,
For those who...
It's ideal for those who enjoy graphic design.
Not for those who...
Retromatic has a specific use case. If you don't have a subject in a photo that's meant to stand out, it's not overly useful.
Why we love it
If you're feeling retro, Retromatic is just for you. It provides you with a very unique way to show off your creative talent. All you need is a steady hand and a little imagination.
Retromatic 2 is $1.99 but there are more add-ons
$0.99

doodler package

$0.99

X-mas & New year package

$0.99

MARTINI package

$0.99

BOGOTA package

$0.99

A Doodly Holiday

$0.99

Christmas 2013 package
App Store Description
Take your pictures back in time with Retromatic's retro-style themes,
stickers, and effects.
In a matter of seconds, you can create fun
posters featuring your favorite objects.

Remember your favorite decades with our unique, easy-to-use app.



Features

1. 18 amazing retro filters

2. 17 graphic themes in 17 different colors

3. Over 70 modifiable retro stickers

4. Supports high-resolution images (1280x1280)

5. Supports Instagram, Facebook, Twitter, and Flickr


Instructions

1. Take or choose a photo

2. Trace the outline of the subject

3. Pick a theme in your favorite color

4. Select a filter

5. Add stickers and text in a variety of colors

6. Save and share with your friends!



Don't worry, we will continue to update our stickers and effects for
more retro fun. :)



Participate to win a spot in our showcase!


All you have to do is...

1. Follow us on Facebook, Instagram or Twitter

Facebook: facebook.com/petavision

Instagram: Petavision

Twitter: Petavision

2. Tag #RetromaticChoice to your favorite photos!


Want to get in touch with us?

Email us at: [email protected]