TouchArcade - "This game checks off all the boxes for an endless runner
Rolling Zimro
by Xaxist Arts LLP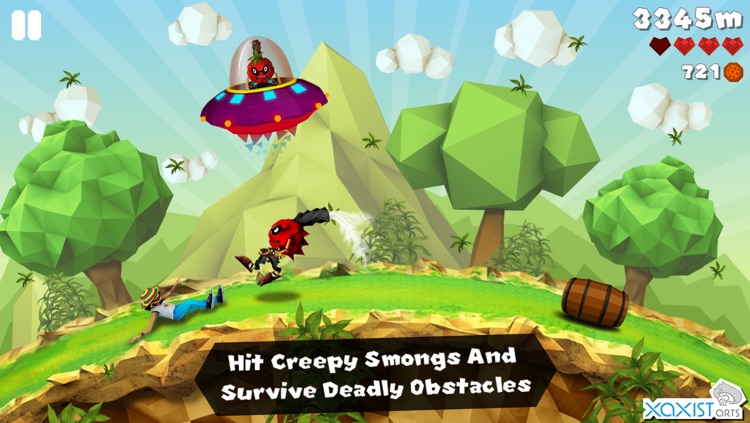 What is it about?
TouchArcade - "This game checks off all the boxes for an endless runner."
For those who...
It's for fans of the genre that are tired of simply running straight ahead.
Not for those who...
Rolling Zimro is best played in short bursts since you won't find much variety outside of the fact that the worlds spin. If you enjoy deeper gaming experiences, Rolling Zimro isn't the game for you.
Why we love it
If you're looking for something new from the endless distance genre, Rolling Zimro is it. Its beautifully rendered low poly worlds are just fun to look at; they're also a total trip because they spin like crazy. Each world is procedurally generated, so you won't come across the same challenge twice.
Rolling Zimro is $0.99 but there are more add-ons
$4.99

Munchie Truck

$9.99

Munchie Ship

$0.99

Munchie Box
App Store Description
TouchArcade - "This game checks off all the boxes for an endless runner."

Shoost - "Rolling Zimro is a short and sweet spin-o-thon."

TheBizri - "Unique twist to 'endless running games.'"

GNN Gamer - "Outstanding game."

Game Mob - "Interesting take on what it means to say a game is addictive."

Games In Aisa - "Polished controls and sweet art direction."

---------------------------------------------------------------------------

Rolling Zimro is the world's first super fast spinning endless runner game with beautifully rendered low poly worlds.

- Shortlisted for Indie Prize Showcase, 2014, Singapore.
- Featured across 153 countries in Top 50 Action games on the AppStore.

Statutory Warning - This game is insanely trippy! The game testers are still recovering.

Planet Smoraah is dying. The smongs on the planet are left with some sacred wisdom leaves, but not enough. Earthling Zimro is the only one who knows how to grow these sacred plants. King Smong has ordered to capture Zimro and the smongs have invaded planet earth. Its time you take control of Zimro and survive as long as you can.

Simple two button controls the action, jump and slide. The game speeds up as Zimro travels through different worlds, but thankfully there are power ups to the rescue. Ride your way through using a joyride and fly through space with wings. Consume the magical shrooms to slow down and grab munchie magnets to collect maximum munchies.

Timing is everything. Use all your timing and quick thinking to travel maximum distance as Zimro will have more than one occasion to scream Bwaaah....and so will you!

With Rolling Zimro, you'll experience:

- Unique and gorgeous spinning worlds that you can trip on.
- Fast actions to perform with easy tap controls like run, jump, slide and fly.
- Deadly enemies and obstacles including Smongs, UFO's, Barrels, Fire, and much more. You will die often and it will always be your fault.
- Bootiman, Joyride, High Fly, Shrooms and four other super exciting power-ups.
- Utility boosts such as First Crack and Super Crack.
- Collect colorful and yummy munchies. Trade them off in The Stash to buy new gear.
- Procedurally generated enemies and obstacles so you get a different game every time you play.
- Unlock Achievements and beat your friends on the online leaderboards.
- Music that will pump up your senses.

**Important** Requires at least iPad 2, iPhone 4S, iPod Touch (5th gen), or newer.

Stay on top of your game! Get the latest news, deals, and more at....

Rolling Zimro Facebook - http://facebook.com/RollingZimro
Xaxist Arts Facebook - http://facebook.com/XaxistArts
Xaxist Arts Twitter - http://twitter.com/XaxistArts
Xaxist Arts Youtube - http://youtube.com/user/XaxistArts